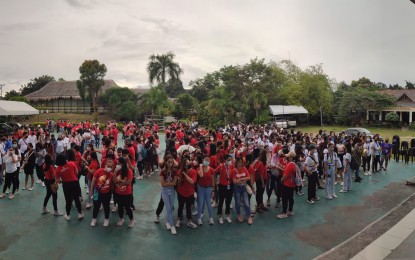 DUMAGUETE CITY – A key official in Negros Oriental on Monday exhorted students taking up courses related to the tourism industry to protect the environment as it is a major source of livelihood for many.
Myla Mae Abellana, head of the Provincial Tourism Unit (PTU), sounded her call to hundreds of students, deans, and teachers of various schools during the opening of the province's celebration of World Tourism Day.
"The environment is crucial in the tourism industry as it provides us with various destinations as well as venues to promote our culture and even the food sector," she pointed out.
While World Tourism Day is celebrated every Sept. 27, she said they are also undertaking certain activities in celebration of Tourism Month.
This is done in partnership with the Tourism Educators Council of Negros Oriental and Siquijor (TECNOS) to provide students in this sector a venue to hone their skills as front liners, she added.
"I urge everyone to do your little share of protecting the environment, especially for students who will be at the forefront of the tourism sector, once you finish your courses," Abellana said in mixed English and Cebuano.
Hundreds of students from schools offering courses like hotel and restaurant, tourism, and hospitality management joined in a clean-up drive early morning prior to the launching of the Tourism Week celebration.
Some of the TECNOS member-schools that are participating in these activities this week are the Negros Oriental State University campuses; St. Paul University Dumaguete; Metro Dumaguete College; Colegio de Santa Catalina de Alejandria; Foundation University; and Asian College -STI.
The activities include a tourism quiz bee; tour guiding competition (domestic and international); search for the Tourism Ambassador and Ambassadress 2022; competitions on cooking and dessert preparation contest; flair tending; table skirting and setting; fruit and vegetable carving; unity games; and election of new TECNOS and SINATO (Sidlakang Negros Association of Tourism Officers). (PNA)