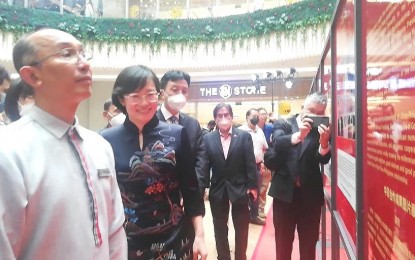 BAGUIO CITY – Mayor Benjamin Magalong on Monday said the city is closely collaborating with China for the implementation of many priority infrastructure development projects, particularly those aimed at making the country's summer capital a smart city and boosting agriculture.
"I was just explaining to the Minister (Counselor Wang Yulei) we have two big projects -- the monorail system which is most probably one of the big projects and the candidate is Build Your Dreams (BYD) of China, the biggest rail maker in the world," Magalong said in an interview.
Magalong joined Chinese Embassy Minister Counselor Wang Yulei in the unveiling of the photo exhibit highlighting the achievements of China-Philippines cooperation at the SM City Baguio.
The mayor said BYD is in partnership with Filipino Company Metro Global of the MRT (Metro Rail Transit) operating in Metro Manila for a rail project in the city.
"Isa sila sa may magagandang proposal (they have one of the good proposals)," the mayor said.
He said the project will begin with the first phase comprising a 4.4-kilometer elevated monorail system.
Magalong also sought Wang's help by providing technical assistance to the city's efforts to boost the agriculture industry.
"Kasi gusto natin palakihin pa lalo yung ating capacity in terms of agro-industry. Gusto natin i-position ang Baguio as the biggest producer of button mushroom and strawberry (we want to increase the city's capacity in terms of agro-industry and position it as the biggest producer of button mushroom and strawberry)," he said.
Wang, in her message during the event, said "this city in the north was specifically chosen because of the vibrant Filipino-Chinese community living in this area which makes it the perfect venue to foster fruitful cultural and people-to-people exchange."
She said Baguio is the sixth stop of the Chinese Embassy's touring photo exhibit tour which was already held in Metro Manila, Angeles City Pampanga, and Davao.
The exhibit titled "Transcend the Millennia Friendship, Greet a New Era of Golden Age" is a collection of photos that highlights the most significant events involving the two countries like high-level exchanges, economic and trade cooperation, defense exchanges, and joint efforts to counter the global pandemic.
"Through the presentation of these photos, we aspire to inform the public and spread awareness of the ongoing projects and endeavors our countries have been undertaking together. All our efforts, particularly in the Chinese government's four key areas of cooperation, have successfully strengthened our economic ties, fostered greater understanding, and alleviated the lives of countless Filipinos during trying times," Wang said. (PNA)