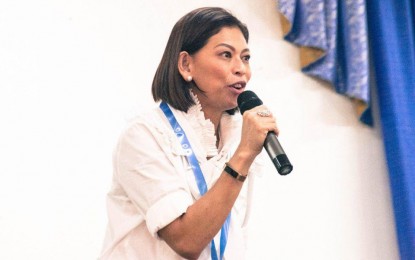 MANILA – A leader of the House of Representatives on Monday said the PHP5.268-trillion national budget for 2023 would be scrutinized, as the chamber is expected to start its plenary debates on the spending measure on Tuesday.
During the Laging Handa briefing, Marikina City Representative Stella Quimbo, senior vice chairperson of the House Committee on Appropriations, said the House is on track with its schedule to start its plenary debates on Tuesday until Sept. 28.
"So ano ang maipapangako natin sa ating mga kababayan? Kikilatisin natin nang mabuti itong budget natin. Hindi naman komo't gagawin natin ito in seven days ay ibig sabihin masyo-shortcut – ay, hindi po. Kami po ay handa to stay until midnight or even beyond midnight if necessary. Basta ang sa amin po, gagawin natin ang lahat para makilatis natin nang mabuti (So what can we promise our fellow countrymen? We will carefully scrutinize the national budget. Just because we will try to accomplish this within seven days does not mean that we will take shortcuts in the budget process. We are ready to stay until midnight or even beyond midnight if necessary [to deliberate on the budget]. On our end, we will try our best to scrutinize the budget thoroughly)," Quimbo said.
Quimbo said both the minority and majority members of the House will provide "full cooperation and full support" in the budget process, with the former doing their duty as "fiscalizers", and the latter acting as defenders of the budget.
"Inaasahan naman natin na ang minority will play their very important role of iyong fiscalizers, ika nga. So talagang sila iyong parang counterforce 'di ba. So, kami po sa majority, didepensahan po namin ang budget. So magkakaroon ng balitaktakan, magkakaroon ng debate between the majority and the minority members (We are expecting that the minority will play their very important role as fiscalizers. So they are like the counterforce. We in the majority will defend the budget. So there would be discussions and debates between the majority and minority members)," she said.
She said if the General Appropriations Bill would be certified as urgent, then the House can approve it on third and final reading by Sept. 28.
"We begin plenary debates tomorrow (Tuesday). Ang approval na mangyayari po ay (On the approval), the earliest will happen on Sept. 28," she said.
She said the proposed national budget for next year is aimed at accelerating the country's economic recovery from the coronavirus disease (Covid-19) pandemic and is consistent with the 8-Point Socio-Economic Agenda of the Marcos administration.
She pointed out that digitalization is a common theme in the agencies' plans to improve their overall operations.
"I think na-recognize na rin naman ng bawat ahensiya na it's about time na kailangan na talaga natin mag-digital pivot nang sa ganoon ay mas magiging efficient ang mga agencies sa pag-deliver ng mga public services (I think every agency recognized that it's about time to make a digital pivot in order to become more efficient in the delivery of public services)," she said. (PNA)