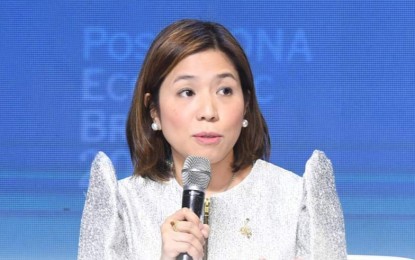 MANILA – The Marcos administration's Medium Term Fiscal Framework (MTFF) will serve as a roadmap for the country's prosperity, the Department of Budget and Management (DBM) said on Tuesday.
This, as Budget Secretary Amenah Pangandaman hailed the Senate and the House of Representatives for backing the administration's 2022-2028 MTFF.
"The MTFF is the roadmap for our Agenda for Prosperity," Pangandaman said in a press statement, noting that it is the first time that a Congress, through a resolution passed by Congress, adopted a comprehensive fiscal strategy for the entire term of an administration.
Last week, the Senate adopted a resolution supporting the Marcos administration's 2022-2028 MTFF which seeks the alignment of all economic recovery programs and legislative priorities.
Pangandaman thanked the lawmakers for their commitment to ensuring that their legislative agenda would be guided by the targets set in the fiscal framework.
"It is encouraging to see that Congress is united with the administration in our economic objectives for the nation. We commend Congress on the adoption by both the Senate and the House of Representatives of their respective resolutions backing the MTFF," she said.
Under the framework, the government aims to achieve 6.5 to 7.5 percent gross domestic product (GDP) growth in 2022; 9 percent or single-digit poverty rate by 2028; 3 percent national government deficit to GDP ratio by 2028, and less than 60 percent national government debt-to-GDP ratio by 2025, Pangandaman noted.
"It is with these objectives in mind that we have designed our National Expenditure Program (NEP)," she said.
Pangandaman thanked Congress for recognizing the importance of a fiscal consolidation and resource mobilization plan, including measures such as rightsizing government structures and personnel.
The MTFF shall serve as the country's blueprint, specifically for the fiscal deficit reduction, promotion of fiscal sustainability, and enabling robust economic growth as it embarks on its recovery from the Covid-19 pandemic.
The Senate Concurrent Resolution 3 supporting the MTFF was sponsored by Finance Committee chairperson Sonny Angara, while the similar resolution filed before the House of Representatives was sponsored by Marikina Rep. Stella Luz Quimbo, vice chairperson of the House Appropriations Committee.
The resolution supports both the near-term and medium-term socio-economic agenda that addresses issues in areas of food security, transport and logistics, energy, fiscal management, health, education, social protection, and bureaucratic efficiency.
It also calls for a review and update of the MTFF after three years or in 2025, prior to the 20th Congress, to reflect current economic conditions and developments. (PNA)