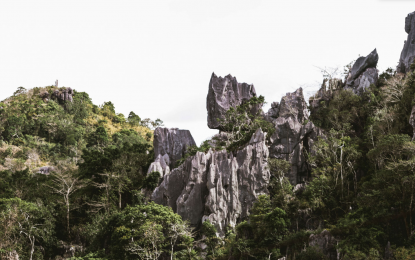 MANILA – The Philippine National Police (PNP) is looking into the possible involvement of retired or active police officers in last weekend's standoff at the Masungi Georeserve in Rizal province where scores of armed men have encamped and caches of weapons were discovered.
In a press briefing at the PNP national headquarters at Camp Crame on Monday, PNP chief Gen. Rodolfo Azurin Jr. said they will be checking the documents of those who are claiming ownership of a part of the conservation area.
"We are checking the veracity of the signature who supposedly authorized the perpetual utilization of the protected property," said Azurin, adding he finds the document "unusual."
"There must be something wrong with the document that is being shown, that's why we're coordinating with the DENR (Department of Environment and Natural Resources)," he said.
Reports revealed that a retired police major is claiming ownership of a parcel of land at the Masungi Georeserve and some armed men are believed to be working for him.
"Definitely, we will also look at the possible involvement of policemen here, whether active or retired. We really have to check all of these things to peacefully resolve this," said Azurin.
Azurin said Interior Secretary Benjamin Abalos Jr. has ordered the PNP "to coordinate with the DENR and other agencies in looking at the basis, the legality (of the claims) and identify (the members of) the armed group involved."
"Our DILG Secretary actually tasked the PNP to coordinate with the DENR and other agencies to determine the legal basis and to identify the armed men," Azurin said.
The Masungi Georeserve was declared a protected area in 2011 under Proclamation No. 296 but a number of settlements were already put up, including houses and resorts. Reports revealed that there are individuals and groups interested in the area due to its mining potential.
Located around 47 kilometers east of Metro Manila, the Masungi Georeserve is a conservation area and is known for its rustic rock garden that is part of the Upper Marikina River Basin Protected Landscape (UMRBPL) in Rizal province.
The UMRBPL, which covers 26,126 hectares in Rizal province, plays an important role in regulating the flow of water towards the highly urbanized National Capital Region. (PNA)