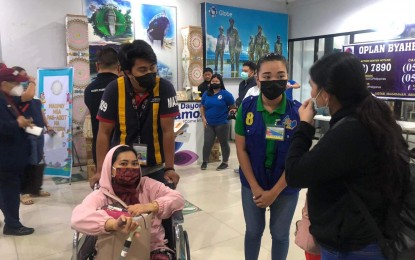 TACLOBAN CITY – Eastern Visayas has already recorded 550,572 overseas Filipino workers (OFWs), almost doubling the number in the past five years, the Overseas Workers Welfare Administration (OWWA) regional office here said on Tuesday.
The number has been consistently increasing every year as more workers hunt for high-paying jobs abroad to support their families, said Evangelina Filamor, OWWA Eastern Visayas regional director.
"Five years ago, we only had about 300,000 migrant workers in the region. The number has increased significantly until this year. It's the choice of our workers to seek employment opportunities abroad even if the government has been creating opportunities in our country," Filamor said during the press briefing here.
Of the 550,572 OFWs, only 96,696 have active membership status with OWWA, and 453,876 are classified as inactive.
Identified as inactive are those who have existing working contracts but failed to activate OWWA membership or have not renewed their contracts.

Broken down to provinces, 321,068 OFWs are from Leyte; 80,168 from Southern Leyte; 56,164 from Eastern Samar; 46,552 from Samar; 37,300 from Northern Samar; and 9,320 from Biliran province.
Majority of migrant workers from the region are deployed in the Middle East employed as skilled workers, according to Filamor.
For those who opted to stay in their home provinces, OWWA has been implementing three major reintegration programs to help overseas workers.
These are the "Balik Pinas! Balik Hanapbuhay!" Program, Overseas Filipino Workers – Enterprise Development and Loan Program (OFW-EDLP), and "Tulong Pangkabuhayan sa Pag-unlad ng Samahang OFWs (Tulong - Puso)".
"Balik Pinas" is a package of livelihood assistance intended to provide immediate relief to returning distressed or displaced OFWs amounting to a maximum of PHP20,000 as a start-up or additional capital for the livelihood project.
OFW-EDLP is an enterprise development intervention and loan facility of OWWA, in partnership with the Land Bank of the Philippines and the Development Bank of the Philippines, intended to support enterprise development among OFWs and their families.
The "Tulong-Puso" program is a one-time livelihood financial grant that supports the proposed business plan for both start-up and expansion of the OFW groups, duly recognized by the Department of Labor and Employment, Cooperative Development Authority, and the Securities and Exchange Commission.
During the reintegration programs caravan in the past two days, OWWA has released about PHP815,000 for recipients of reintegration programs in Leyte and Samar provinces.
Gerald Tan, director of the National Reintegration Center for OFWs, said they would continue to support returning migrant workers, both documented and undocumented.
"We must provide (for) the needs of families of OFWs to mitigate the social impact of migration. One of the initiatives is the formation of OFW Children's Circle (OCC)," Tan said.
The OCC project will provide holistic programs and services for the benefit of OFWs' children.
Under the program, the government will help develop the skills and talents of the dependents' children and have them gain their full potential.
It will also protect them against illegal drugs. (PNA)