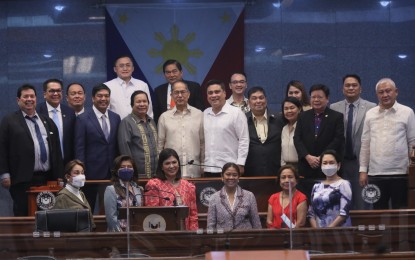 MANILA – Senators conveyed their support for Secretary Bienvenido Laguesma of the Department of Labor and Employment (DOLE) after his confirmation hearing on Tuesday.
Senator Christopher Go said Laguesma is no stranger to government service as he has been serving DOLE for 22 years now.
"Patiently and vigorously working his way up the ranks. Having previously held his post, there is no doubt Secretary Laguesma will fulfill his mandate with utmost diligence and faithfulness," Go said in a statement.
Senator Jinggoy Estrada, who chairs the Committee on Labor, Employment and Human Resources Development, said it is a relief that his committee will be dealing with a labor veteran.
"Our distinguished appointee is returning to the Commission for yet another confirmation for the same position. Sec. Benny was appointed as DOLE Secretary by my father, former president Joseph Estrada, in 1998. It is safe to say that Sec. Benny is our go-to guy for labor concerns," he said during the presentation of Laguesma's ad interim appointment before the Commission on Appointments.
Estrada believes that the country's workforce will genuinely build back and recover from the damaging effects brought by the Covid-19 pandemic under Laguesma.
"As labor law practitioner, he also knows the plight of workers who are sometimes left with no choice but to settle with a hostile work environment and working conditions. We look forward to see the work of Sec. Benny in the department as he champions crucial reforms to protect our workers," Estrada said in his manifestation.
"He will be able to contribute to the expansion and growth of the Philippine economy post-Covid," added Senator Francis Tolentino.
The CA deferred Laguesma's deliberation on September 14 due to "lack of material time" to properly question the official.
Apart from serving as DOLE secretary during the Estrada administration, Laguesma also served as presidential assistant to the late president Fidel V. Ramos and as board member of the Social Security System. (PNA)