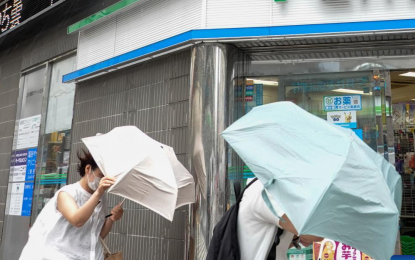 MANILA – The Department of Migrant Workers (DMW) reported on Tuesday that overseas Filipino workers (OFWs) under the jurisdiction of the Philippine Overseas Labor Office (POLO) in Osaka, Japan have been accounted for and are safe.
Following Typhoon Namnadol that lashed Kyushu, the southernmost of Japan's four main islands, on Sunday, DMW Secretary Susan Ople ordered the POLO offices to continuously monitor the condition of all OFWs and be ready to provide aid, if needed.
The Overseas Workers Welfare Administration (OWWA), an attached agency under DMW, was also instructed to prepare to extend assistance.
"POLO-Osaka said 13,904 OFWs under its jurisdiction have been accounted for, are unharmed, and safe," said Ople, who is with the official delegation to the United Nations General Assembly (UNGA) in New York.
POLO-Osaka is also in constant communication with most of the employers and supervising agencies of OFWs in the Kyushu area, Ople added in her statement.
Of the OFWs covered by POLO-Osaka, Ople said 5,368 are in Fukuoka; 660 in Saga; 1,001 in Nagasaki; 2,520 in Kumamoto; 1,607 in Oita; 786 in Miyazaki; and 1,962 in Kagoshima.
Meanwhile, POLO-Tokyo, with about 22,000 OFWs under its jurisdiction, said it has not received any request for assistance as of Monday night.
More than 70 people were reported injured, mainly in the Kyushu region, due to the typhoon while 85,000 travelers were affected as Japan Airlines and All Nippon Airways canceled more than 450 and 370 flights, respectively, according to Kyodo News.
The typhoon was forecast to bring up to 300 millimeters (mm) of rainfall in Tokai, 250 mm to the Kanto-Koshin region including Tokyo, and 180 mm to the western region of Kinki until Tuesday night.
Ople said Filipinos needing assistance in Japan could contact the following helplines: POLO-Tokyo Welfare hotline +81 70 3630 0167 with Welfare Officer Nico Herrera; and POLO-Osaka Labor Attache Elizabeth Estrada at +81 70 2275 6083, Welfare Officers Pilipina Dino at +81 70 2447 4014 and Dahnia Domado + 81 70 2447 4016, or verification hotline (Marina Mori Alvez) +81 70 2275 6082.
OFWs in Taiwan are also under monitoring after Sunday's magnitude 6.8 earthquake in Taitung County and Hualien County.
Three POLOs in Taiwan reported zero injury and casualty among OFWs.
Hardest-hit Hualien County has 1,400 OFWs.
Taiwan OFWs in need of assistance and information may contact the DMW through the following hotlines and social media sites: Taipei, mobile: +886 932 218 057, Facebook / Messenger: POLO Taipei; Taichung, mobile: +886 966 537 732, Facebook / Messenger: Meco Polo Taichung; and Kaohsiung, mobile: +886 988 976 596, Facebook / Messenger: Meco Polo Owwa Kaohsiung. (PNA)