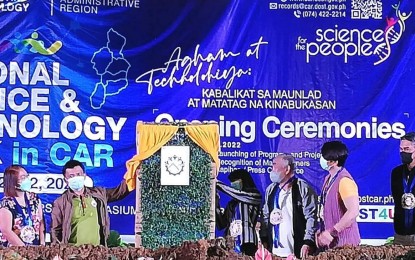 LA TRINIDAD, Benguet – Three major universities in the Cordillera and the Department of Science and Technology (DOST) have embarked on a study that aims to create a mobile early warning system for residents of Baguio City and the towns of La Trinidad, Itogon, Sablan, Tuba, and Tublay (BLISTT) against rain-induced landslides.
The three universities are the University of the Philippines-Baguio, the University of Baguio and the University of the Cordilleras, all located in Baguio City.
Dr. Nancy Bantog, director of the Department of Science and Technology (DOST)-Cordillera Administrative Region (CAR), in a press conference on Tuesday, said the Modelling and Understanding Landslide Events (MULAT)-BLISTT study worth PHP38.7 million aims to produce a landslide database, landslide inventory map, landslide susceptibility maps, catalogs of extreme rainfall, landslide vulnerability maps and landslide risk maps that are localized and can be used by households.
This will be complemented by the establishment of a PHP5.5 million landslide knowledge and management center that aims to create information materials on landslide science, mitigation, and management to increase the knowledge and awareness of stakeholders on the risks of landslides and the appropriate responses.
Bantog said the study was originally set to cover the whole Cordillera but its coverage was limited due to budget constraints.
"Once the study is completed, it can be used not only in the subject area but in other parts of the country with the same or similar topography or situation," Bantog said.
The project that will last for two years started in July.
Dr. Dymphna Javier, the project leader of MULAT-UP said that one of the outputs of the study is a cellular phone application that will be accessible to anybody and can show the condition of a specific location, like where a person lives.
The study has a special feature -- a map directing a person to a "safe spot" where the affected families can go in case of a landslide.
Nathaniel Vincent Lubrica, the project leader of MULAT-BLISTT of the University of the Cordilleras, said they hope to predict future occurrences of landslides, aside from coming up with a map that will be generated as a result of the installation of equipment that will measure earth movement due to rain-induced landslide.
"The reality is, we cannot predict landslide but our goal is to at least identify the possible and specific situations in specific areas that will be useful to residents," he said.
He said the whole output will serve as an early warning system that will be able to serve as a guide to the decision-making of a property owner and an information "when to go" for safety.
The two projects were formally launched on Tuesday during the opening of the three-day 2022 National Science and Technology Week in CAR. (PNA)