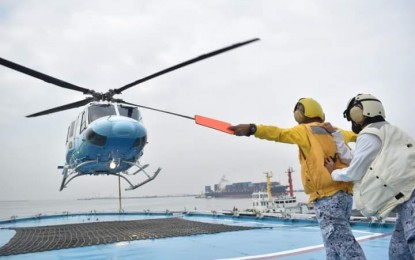 MANILA – The officers and crew members of the presidential yacht, BRP Ang Pangulo (ACS-25), have conducted flight quarters operations early this month to provide deck landing qualification (DLQ) training to pilots and flight crews assigned to the 250th Presidential Airlift Wing (PAW).
"ACS-25 being the platform, played a vital role in the safe and successful conduct of DLQ training. With that, the officers and men of AC-S25 conducted a series of lectures, refresher training, table top exercises (TTX) and flight quarters drill in preparation for the said activity," the ship said in a Facebook post late Tuesday.
Participating 250th PAW aircraft, pilots and flight crew successfully completed their training.
"The attendees successfully accomplished the activity by conducting 18 sorties of launching and recovery of two helis of the 250th PAW," BRP Ang Pangulo's post added.
The 250th PAW is one of the units of the Philippine Air Force attached and assigned to the Presidential Security Group.
Its mission is to provide aircraft and air crew support for the airlift of the President, cabinet members, and presidential staff, immediate members of his/her family, visiting heads of states, and other local and foreign VIPs.
"This activity ensured the interoperability of naval and air assets under the purview of the Presidential Security Group by providing a ready and capable platform for the President of the Republic of the Philippines," it added. (PNA)