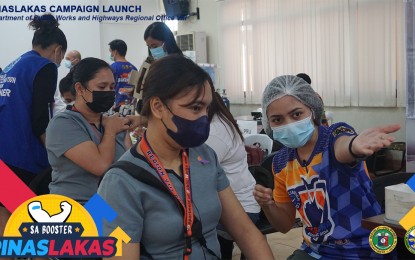 TACLOBAN CITY – At least 443,350 individuals in Eastern Visayas have received their first booster shots against Covid-19, or only 15.5 percent of the eligible population, prompting the Department of Health (DOH) to renew its call to local government units to step up the vaccination drive.
Of the number, 80,000 residents got their booster dose from July 26 to Sept. 18, the first two months of the new PinasLakas campaign meant to administer vaccines to more residents within the first 100 days of the administration of President Ferdinand Marcos Jr.
DOH Eastern Visayas assistant regional head Rodolfo Antonio Albornoz said on Wednesday the vaccination accomplishment for booster shots calls for more support to expand its coverage.
For the second booster, only 53,690 have received the shots.
Some 2.38 million persons in the region are due for booster shots.
"This signifies that the region needs to continuously maximize its efforts and mobilize its resources to meet the target. Sufficient vaccine allocation for every active vaccination center and implementing local government units in the region is ensured by the Department of Health," Albornoz told reporters.
A total of 2.83 million residents in the region are fully vaccinated and eligible for the first booster dose.
The Covid-19 vaccination aims to inoculate 3.4 million individuals in the region.
For senior citizens, considered a top priority for vaccination, 70 percent or 272,545 have received the first two doses.
"In the succeeding vaccination days, we will find the remaining 78,136 senior citizens. Most of them are in cities and capital towns in six provinces," Albornoz added.
All vaccination efforts of the DOH and its partner agencies from both the public and private sectors will focus on the settings-based approach to bring vaccines closer to the people. This will include malls, markets, terminals, plazas, places of worship, schools, and workplaces.
The new PinasLakas campaign targets 90 percent coverage for the primary series of senior citizens and 50 percent coverage for the first booster of the general population on or before the President's first 100 days or Oct. 8, 2022. (PNA)