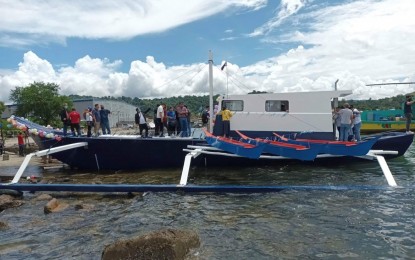 LAOAG CITY – The Department of Agriculture-Bureau of Fisheries and Aquatic Resources (DA-BFAR) launched on Wednesday a program that will provide 62-footer fiberglass reinforced plastic handling fishing boats to four towns in the Ilocos Region to boost the livelihood of small-scale fishermen.
"This is a dream come true for the fisherfolk of Currimao as they will be able to go fishing farther to catch tuna and salmon among others, thus, increasing their income and livelihood," said Mayor Edward Quilala of Currimao, one of recipient towns chosen for the grant of modernized fishing equipment.
The PHP6.3-million modern fishing vessel also comes with complete fishing accessories, freezers, and a 20-foot motorboat.
Quilala and Mariano Garcia, president of the Barangay Victoria Fishermen's Association Inc., were at the Subic Fish Port in Zambales to witness the formal launch of the program.
Since 2020, the BFAR had been distributing bigger and better-equipped fishing boats to qualified fishermen's organizations in coastal municipalities.
While small pelagic fishing grounds are mostly found in coastal and shallow areas such as municipal waters, the BFAR said only 40 percent of the production of these species is currently attributed to the municipal sector due to the limited fishing capacity of municipal fishing boats.
"By upgrading and capacitating our local fishermen, we will be able to improve fish production, alleviate poverty and contribute to the attainment of food security," said Vanessa Dagdagan, senior aquaculturist of the BFAR based in Ilocos Norte, who also attended the launch.
In line with BFAR's "Big Brother-Small Brother" approach, the program also promotes better and stronger cooperation, collaboration, and long-term partnerships among sectors to help empower coastal communities.
Before turning over the upgraded fishing vessels to the target beneficiaries, technical experts from BFAR will first have to train them on cooperative development and management for the appropriate skills and attitude to achieve the program's main goal of food security.
No date has been set for the turnover. (PNA)