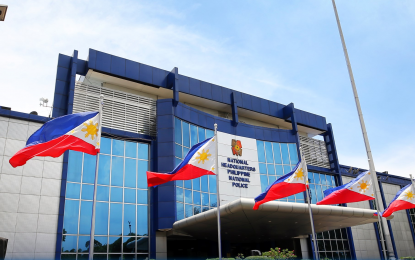 MANILA – The Philippine National Police (PNP) on Wednesday said it will summon the security agency that employed personnel who allegedly encamped within the vicinity of the Masungi Georeserve in Rizal due to alleged violations.
In a press briefing at Camp Crame, PNP spokesperson Col. Jean Fajardo said six security guards of the Sinagtala Security Agency who were inspected by the Rizal police at the site on Sept. 17 failed to present registration of their firearms.
"The Regional Civil Security Unit (RCSU) 4A (Calabarzon) found out that the security officers failed to present firearms registration of 12 shotguns and two revolvers, prompting the team to confiscate them," she added.
Fajardo, however, said further verification showed the firearms have a valid registration with the PNP's Firearms and Explosives Office (FEO) until 2024.
"However, that will not (spare) the security agency as it will be made to explain how come the security officers failed to bring with them the firearms registration. We are seeing violations here. We talked to the RCSU officer-in-charge and they said they will hold proceedings to find out administrative liabilities that can be imposed on the security agency," she said.
Meanwhile, Fajardo said the PNP's role on the matter is only limited to securing peace and order in the area.
This came as the Masungi Georeserve Foundation urged President Ferdinand Marcos Jr. and other government officials, including PNP chief Gen. Rodolfo Azurin Jr. to order the arrest of the armed men involved in the incident.
"If there are issues with respect to ownership, since the adverse claimant is occupying an area and even hired a security agency, I think it's best to be decided by the proper court for jurisdiction," she added.
On Sept. 17, the Rizal police responded to a report claiming that 30 armed men encamped in the vicinity of the Masungi Georeserve and were preparing to take huge portions of land inside the protected area.
The Sinagtala personnel claimed they have a survey plan under the name of one Beatriz Sonquipal that was reportedly issued by the Department of Environment and Natural Resources (DENR) regional office in the early 2000s.
The foundation, however, said the survey plan is not proof of ownership.
Fajardo said they are seeking the help of the DENR regarding the matter.
The Masungi Georeserve was declared a protected area in 2011 under Proclamation No. 296 but a number of settlements were put up, including houses and resorts.
Reports said there are individuals and groups interested in the area due to its mining potential.
Located around 47 kilometers east of Metro Manila, the Masungi Georeserve is a conservation area and is known for its rustic rock garden that is part of the Upper Marikina River Basin Protected Landscape (UMRBPL) in Rizal province.
The UMRBPL, which covers 26,126 hectares in Rizal province, plays an important role in regulating the flow of water towards the highly urbanized National Capital Region. (with Priam Nepomuceno/PNA)