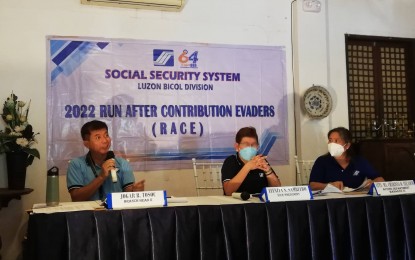 LIGAO CITY – The Social Security System (SSS) in Legazpi City has issued notices to six delinquent establishments in three areas of Albay province as it conducted its third leg of the "Run After Contribution Evaders" (RACE) campaign on Wednesday.
Elenita Samblero, SSS vice president for Luzon-Bicol Division, in a press conference, said the establishments were from this city and the towns of Guinobatan and Polangui.
"The purpose of the RACE is to instill awareness to our employers with the programs of SSS that they can avail to settle their arrears and non-compliance. This is also beneficial to the employers and employees instead of the coercive approach or going to legal action, and it is a simpler way to comply with SSS," Samblero said.
She said the RACE is not a shame campaign but an awareness and persuasive approach.
"Based on our records, this is the eight RACE we conducted in the entire Bicol Region, and based on that, We already run after 43 employers with PHP8.6 million collectibles. Forty two out of the 43 were able to comply while for the other one, we already filed a case and collected PHP2.7 million," she said.
Samblero added that two more RACE drives will be conducted in the provinces of Masbate and Sorsogon.
Employers are mandated by the Social Security Act to deduct from the salaries/wages of employees their share in the monthly contribution, pay their own share of contributions including Employee's Compensation, and remit these regularly.
All employers must register with the SSS and report their employees for coverage. (PNA)