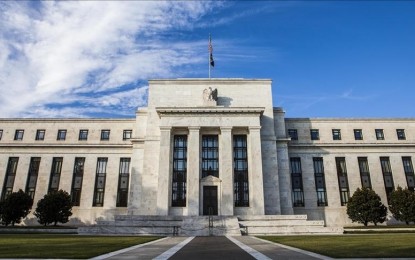 ANKARA – The United States Federal Reserve is likely to make a rate hike of 75 basis points at the end of its critical two-day meeting on Wednesday.
More importantly, it could signal a higher terminal rate, according to experts.
The Fed has made rate hikes of a total of 225 basis points since March, carrying the federal funds rate to the 2.25 percent to 2.5 percent range in July to tame inflation that is still hovering around its highest in 40 years.
"This isn't welcome news for the Fed, as it wants concrete signs that inflation is steadily moving toward its 2% objective," Ryan Sweet, an economist at Moody's Analytics, told Anadolu Agency via email.
After consumer inflation showed an annual increase of 8.3 percent in August, above the 8.1 percent market estimate, the probability that the Fed would raise rates 100 basis points climbed last week to as high as 34 percent, according to the FedWatch Tool provided by US-based global markets company Chicago Mercantile Exchange Group.
While the probability of a hike of 100 basis points fell Tuesday to 18 percent, a 75-point hike stood at 82 percent.
"I expect the Fed to increase the funds rate target by 75 basis points this week, and 50 basis points in November and again in December. This would put the funds rate target at 4-4.25% by the end of this year," Mark Zandi, chief economist at Moody's Analytics, told Anadolu Agency via email.
"This is approximately what global investors are anticipating, so if the Fed sticks with this script, stock prices should remain in the range they've been in since June when they were at their lows," he added.
US stocks last Tuesday recorded their worst daily performance of the year after consumer inflation came in higher than estimates and investors started to price in a higher rate hike from the Fed.
"The Fed will need to keep the fed funds rate high enough to keep financial market conditions tight. Monetary policy primarily affects the economy through financial market conditions, and to keep growth below the economy's potential, the Fed needs financial market conditions to remain tight," Sweet said.
When the Fed made a hike of 75 basis points in July for the second consecutive time, Chair Jerome Powell said another "unusually large" interest rate increase is possible at the central bank's next meeting in September.
Although Powell said the Federal Open Market Committee (FOMC) would not hesitate to raise it higher than that, he indicated that interest rate increases could slow at some point by saying: "It will likely be appropriate to slow the pace of increases, while we assess how our cumulative policy adjustments are affecting the economy and inflation."
Fed to signal higher terminal rate
Investors' focus during Wednesday's key meeting, however, will be on projection figures, as the central bank could signal a higher terminal rate.
The terminal rate, the peak spot where the federal funds rate is expected to climb before they are trimmed back, was expected to be 3.4 percent for 2022 and 3.8 percent for 2023, according to the Fed's summary of economic projections in June.
The dot plot, a chart that records each Fed official's projection for its key short-term interest rate, will likely show the central bank anticipates a higher terminal rate in its latest summary of economic projections, compared to the previous one, according to Sweet.
"Odds are that the Fed will have a peak terminal rate around 4.25%," he said. "The dot plot will likely show that the central bank anticipates cutting interest rates in 2024 and extending that into 2025. We don't anticipate any changes to the Fed's estimate of the neutral fed funds rate. Therefore, the Fed will need to cut rates steadily at some point to return the fed funds rate to its neutral rate of 2.5%," he said.
Zandi said: "Risks are uncomfortably high that the Fed will need to raise rates even more next year, and if so, the economy is likely to suffer a downturn."
'Narrow path for Fed to engineer soft landing'
The Fed's aggressive rate hike cycle has been criticized by investors and economists who say its monetary tightening policy could cause a recession in the American economy.
The Federal Reserve Bank of Atlanta's gross domestic product (GDP) model showed July 1 that the US economy is already in a recession, while the latest model estimate for real GDP growth in the third quarter was 0.5 percent on Sept. 15, down from 1.3 percent on Sept. 9.
"There is a path, a narrow one, for the Fed to engineer a soft landing," said Sweet, referencing a process where a central bank raises rates against high inflation and causes an economic slowdown but avoids a recession.
"The Fed needs to tighten monetary policy sufficiently to slow GDP growth to a below-potential pace to rebalance supply and demand in the labor market enough to bring down wage growth," he said. "Monetary policy can't directly affect labor supply, but it can impact demand. The labor market needs to cool off more to take the edge off wage growth, and then eventually inflation."
Zandi said the rate hikes should slow job growth, and help quell the strong wage growth and inflation, but not push the economy into recession.
"The Fed has a very tough job in that they need to raise rates high enough and fast enough to bring in inflation, but not too high and too fast that it causes a recession. Odds are the Fed can pull this off, but those odds are declining quickly," he said. (Anadolu)