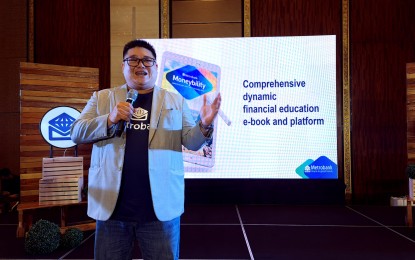 MANILA -- Using technology, Metropolitan Bank & Trust Co. (Metrobank) is supporting the government's financial literacy program by introducing a financial education electronic book (e-book) and platform aimed to increase people's financial resiliency.
In an event on Wednesday, Metrobank chief marketing officer Digs Dimagiba said the e-book Moneybility is a compilation of money management topics that will be updated "as market conditions change."
He said the e-book, currently available for sign-ups on
moneybility.metrobank.com.ph
, has a multimedia and interactive function and tools that provide quizzes, money tracker, and calculator that will help users better understand the topics.
Dimagiba said the bank continues to "strive to go beyond just providing the usual banking services and aim to be the credible and reliable partner of our customers for expert financial advice."
"With education as our driving force, we hope to fulfill their needs while at the same time empower them to sustain a financially resilient way of living," he added.
Dimagiba said financial literacy has become a hot topic in social media, with many people discussing issues targeted to inform the public.
He added once financial literacy content remains fragmented across various online sites, it will be difficult to explain to people this particular topic.
Dimagiba said with the e-book, "we want to make sure that people are getting the right facts and the right advice and guidance."
"This advocacy of propelling financial literacy among Filipinos wherever they may be in their financial journey is consistent with our promise of keeping people in 'good hands.' Equipped with our decades-worth of experience and wisdom on banking and finance, Metrobank hopes to be the go-to-source of financial knowledge through our slate of learning tools and initiatives, starting with our flagship financial education tool, Moneybility," he added. (PNA)