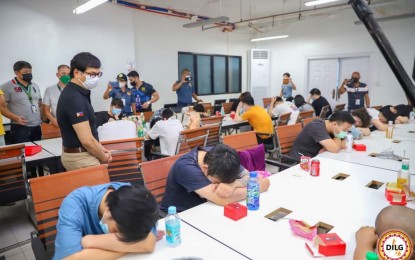 MANILA – The Philippines should treat foreign workers, including those working in Philippine Offshore Gaming Operators (POGOs), with respect and ensure the protection of their human rights, labor groups said on Thursday.
Nagkaisa chairperson Sonny Matula said the Philippines, as a country that demands fair and equal treatment for OFWs in their host countries, should also apply the same principle to the rights of foreign workers.
This came after reports said a "humanitarian crisis" looms from Manila's enforcement of summary deportations against thousands of POGO workers, mostly Chinese, for violating immigration and other national laws.
"For decades we continue to confront this same humanitarian crisis, in fact of bigger magnitude than this one, as we handle complex crises involving our distressed OFWs who were denied equal protection by their host countries. We, therefore, cannot deny other nationals of the same principles that we ourselves demand from other States," he said in a statement.
The labor group official added that the Philippines, being a signatory to United Nations (UN) conventions, has the obligation to extend not only non-discriminatory policies but most importantly, immediate protection and support for workers of other nationalities.
At the same time, Matula noted that the Department of Labor and Employers (DOLE) needs to share the responsibility as it is in charge of the registration and issuance of work permits to regulate the employment of foreigners under the Labor Code.
"To us in the labor movement, the most important aspect of that protection aside from due process is by not criminalizing the victims for in many cases, migrant workers end up victims to onerous labor contracts if not outright trafficking by criminal organizations," Matula said.
The labor group also urged DOLE, the Department of Foreign Affairs (DFA), and the Department of Migrant Workers (DMW), to formulate a coherent policy on this issue and to involve labor organizations and migrant groups in that policymaking process.
Meanwhile, the Trade Union Congress of the Philippines (TUCP) has appealed to the government to ensure the observance and protection of the fundamental human rights and labor rights of workers in Philippine Offshore Gaming Operations (POGO) firms.
"TUCP urges our government to give utmost importance to the welfare of POGO workers in its development of a policy response to the issue of POGO operations in the Philippines," said Deputy Speaker Raymond Democrito Mendoza in a separate statement.
"We have seen the horrific treatment of illegal and undocumented OFWs, and how extremely vulnerable our Filipino workers were, and are, in distant countries to abuse and draconian treatment from governments that regarded our OFWs as mere commodities," he added.
According to the 2020 data of the Philippine Amusement and Gaming Corporation (PAGCOR), there are a total of 120,976 POGO workers in the country.
Of the number, 69,613 of them are Chinese, 3,000 are Vietnamese, 2,400 are Indonesians, 1,700 are Taiwanese, 1,200 are Malaysians, and the rests hail from 44 other countries.
"TUCP calls on the government to pay equal attention to the plight of these foreign workers because we ourselves have also deployed millions of overseas Filipino workers (OFWs) and seafarers abroad. Government must ensure the proper treatment of these foreign POGO workers in the same manner that we demand the proper treatment of our OFWs abroad," he said.
Mendoza pointed out that there are 30,521 Filipino employees in POGO firms, and the more the government should ensure that the human rights and labor rights of all those legally working in the Philippines are safeguarded.
"Let Filipinos now show the way on how foreign workers who may have themselves been victimized, or misled, and perhaps exploited, should be treated here: with respect for their human and labor rights," he said.
At the same time, TUCP vice president Luis Corral pushed for a review of the policy allowing POGOs into the country and for the DOLE to subject all POGO firms to labor inspection in compliance with Philippine labor laws, particularly on their rights and occupational health and safety.
"We should make POGO operations 'visible' and the key to that is pro-active labor inspection by the 700 Department of Labor and Employment Inspectors of all POGO worksites. By not subjecting POGOs to labor inspection, we render POGOs 'invisible'. Labor inspection should be present constantly to protect both foreign and Filipino workers of POGOs from abuses, exploitation, and criminality at the hands of unscrupulous operators and their protectors who flaunt our laws and regulations," the TUCP official added. (PNA)