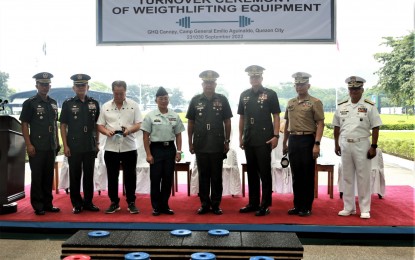 MANILA – The Armed Forces of the Philippines (AFP) on Friday received weightlifting equipment from Tokyo 2020 Olympic gold medalist and Air Force Staff Sgt. Hidilyn Diaz-Naranjo.
The donation was made in partnership with the Samahang Weightlifting ng Pilipinas (SWP) headed by its president Monico Puentevella.
It aims to promote weightlifting events among AFP personnel and their dependents with an end view of developing more world-class soldier-athletes.
AFP deputy chief-of-staff for personnel, Maj. Gen. Adriano Perez Jr., received the donation on behalf of AFP chief-of-staff, Lt.Gen. Bartolome Vicente Bacarro, during simple rites in Camp Aguinaldo, Quezon City.
"This new weightlifting equipment shall further enhance the fitness facilities of the General Headquarters and the Major Service Special Service offices in line with our donor's intent to integrate weightlifting into the AFP-PNP-PCG Olympics. Hopefully, this endeavor shall pave the way for more Olympic medals courtesy of our soldier-athletes," Perez said.
The Office of the Special Service, AFP (OSPS, AFP), headed by Col. Ruben Guinolbay, initiated the turnover ceremony at the General Headquarters Canopy in Camp Aguinaldo.
Present in the activity was Hidilyn's husband and coach, Julius Naranjo, who was instrumental in her Olympic victory.
The OSPS, AFP, and the Special Service units of the Philippine Navy, Philippine Air Force and Philippine Army were the beneficiaries of the donated equipment. Among which were sets of rubber bumper plates, rubber fractional plates, fractional plates, men and women's lifting bar, and platform.
Diaz is the first Filipino to ever win an Olympic gold medal during the 2020 Tokyo Olympics held from July to August 2021.
The multi-awarded weightlifting champion is currently assigned to the Philippine Air Force Civil-Military Group stationed at Camp Jesus Villamor Airbase Gymnasium in Pasay City.
She was placed on Detached Service with OSPS, AFP, and is part of the National Pool of Athletes under the supervision of SWP. (PNA)