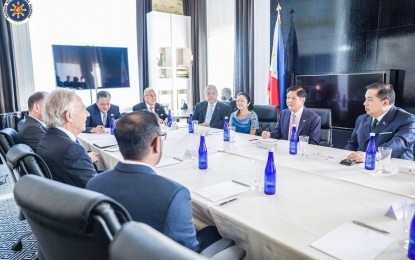 MANILA – The information technology and business process management (IT-BPM) sector in the Philippines, one of the best performing and employment generating businesses in recent years, will expand and develop further under the administration of President Ferdinand Marcos Jr.
Marcos held his first roundtable discussions with chief executive officers (CEOs) in the IT-BPM sector in New York City on Friday (Manila time) to discuss ways to promote the industry.
"We are eager to continue advancing our IT-BPM sector, which has been ranked as one of the best performing and employment generating industries in the Philippines over the past four years," he said in a Facebook post.
Marcos and his official delegation met with top executives of American IT-BPM firms, according to state-run Radio Television Malacañang (RTVM) in a separate Facebook post.
The sector's promising growth trajectory is a product of its global leadership in voice-based services, as well as continuing improvements in non-voice and complex process outsourcing.
It is targeting to boost its revenues by as much as 10 percent this year and create over 1.1 million jobs in the next six years.
Marcos likewise held a dialogue with digital infrastructure industry CEOs, who expressed intent to invest in the Philippines, RTVM said.
During his inaugural State of the Nation Address on July 25, Marcos pledged to improve digital connectivity and address the digital divide to ensure the seamless delivery of public services.
The Department of Information and Communications Technology is tasked to lead the country's digital transformation. (PNA)