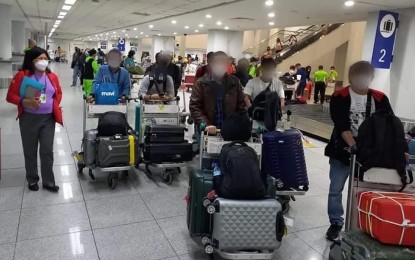 MANILA – Departing overseas Filipino workers (OFWs) no longer need to wear full personal protective equipment (PPE) following a directive from Migrant Workers chief Susan Ople.
Ople, who is part of the Philippine delegation to the United States, said the mandatory wearing of PPE was not sanctioned by the Department of Migrant Workers (DMW) nor the Philippine Overseas Employment Administration (POEA).
"I agree with the sentiments of Senator Pia Cayetano and other legislators that the PPE requirement for departing OFWs is outdated, misguided and oppressive. I regret not having issued this order much earlier to spare our OFWs the discomfort of going to the airport in full PPE attire," she said in statement released to the media on Saturday.
The POEA issued Advisory No. 62, disseminated on Sept. 23, reminding recruitment agencies that no rules and guidelines were issued nor implemented mandating the use of PPE by OFWs whether in Philippine airports or the countries of destination.
It noted that with the easing of Covid-19 restrictions and regulations on both domestic and international travel, "requirements on the deployment and travel of OFWs must also be relaxed."
It added that "any health and safety procedure of OFWs must be harmonized with the requirements of the Philippine government and of the country of destination."
The DMW said a certain manning agency has disclosed that one of their Japanese principals still requires the wearing of PPE and masks for Filipino crew bound for Japan since Covid-19 is still prevalent there.
The manning agency, however, promised to comply with the POEA advisory.
A Chinese shipping vessel also requires its local manning agency to supply PPE to the embarking crew to prevent infection during travel, with the cost shouldered by the employer.
"The DMW firmly believes that having vaccines plus booster shots and wearing face masks provide sufficient protection to our overseas workers. Until otherwise recommended by our health officials, the POEA advisory against mandatory wearing of PPEs for our OFWs by their respective recruitment and manning agencies shall remain in force," Ople said.
She pointed out that other countries such as the United States have relaxed their health protocols for travelers including foreign workers, with the airlines requiring only the presentation of vaccination certificates.
In Taiwan, the easing of health protocols has also led to a shorter quarantine period and a halt to a previous requirement for OFWs arriving in Taiwan to wear PPE, the DMW noted.
"Asking our OFWs to wear PPEs at this time is like asking surfers to wear ball gowns - it's cumbersome, awkward, and extremely peculiar. In short, OA na masyado (it's too much)," Ople said. (PNA)