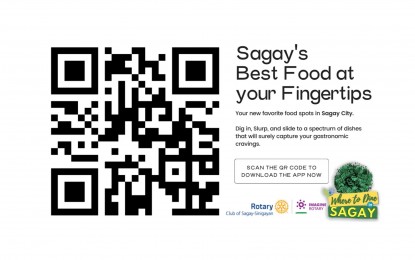 BACOLOD CITY – A guide to the best gastronomic offerings of Sagay City can now be accessed through a mobile application for an easier way to explore food tourism in the northern Negros Occidental locality.
This one-of-a-kind tourism project is the first in northern Negros, Vice Mayor Leo Rafael Cueva said in a statement on Saturday.
"This will boost the tourism industry in the city after the Covid-19 pandemic," he added.
To download the mobile app, a user may scan the QR (quick response) code posted on the "I Love Sagay" Facebook page.
Aside from the mobile app, a booklet version of the "Where to Dine in Sagay City" will also be available at the city's Product Showroom and Visitor Center.
The City Information and Tourism, and Information Technology offices initiated the project, which is also supported by the Rotary Club of Sagay-Sinigayan, to help owners of food establishments recover from the health crisis through the campaign #RecoverTogether.
As a food establishments directory, the "Where to Dine in Sagay City" features 33 restaurants, coffee and refreshment shops, delicacy stores, and other go-to food parlors.
The list includes their locations, food offerings and refreshments, and contact numbers for delivery around Sagay.
Councilor Christopher Marañon, who chairs the City Council's committee on tourism, said he would push for the legislation of more projects to boost local tourism.
"Creating a directory of food establishments is important to showcase the variety of food offerings for tourists visiting Sagay," he added.
Sagay City, which is about an hour and a half drive from Bacolod City, is the province's emerging filmmaking hub and home to the famous Carbin Reef of the Sagay Marine Reserve, Suyac Island Mangrove Eco-Park, Museo sang Bata sa Negros, and Vito Church. (PNA)