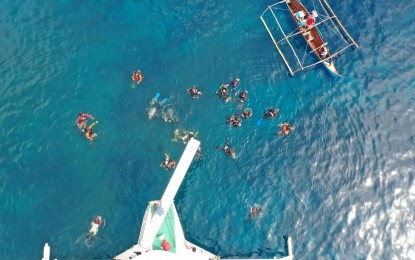 MATI CITY, Davao Oriental – Pujada Bay, which made it to the list of the Most Beautiful Bays in the World in 2019, is hosting the four-day Bay Deep Mati Freediving Festival, the first in the country.
Sixty-five freedivers showed up Saturday during opening day, which also held a sunrise yoga, Pilates activities, and underwater photography and videography workshop at Dahican Beach and Waniban Island.
In an interview, Mayor Michelle Rabat said the Department of Tourism-Davao Region (DOT-11) intends to put Mati on the tourism map with the event and at the same time, flaunt the beauty of Pujada Bay.
"We want to position Mati as a tourism hub to invite foreigners and other diving enthusiasts," she said.
Rabat encouraged freediving enthusiast to likewise explore Mayo and Balete bays.
"I do expect more activities like this. It will be a yearly thing. To all the enthusiasts, you are very much welcome here in Mati," she added.
Tanya Rabat Tan, DOT-11 Director, said the event is a proof that tourism is bouncing back after the coronavirus pandemic.
"This is great news for us, now that we are starting to attract once again the attention of international tourists, most especially divers, as the world starts to move out and away from the pandemic," Tan said.
"We already know that our archipelago is full of underwater treasures, full of incredible marine life, making our islands attractive to international freedivers," Tan added.
Tan said the DOT has long recognized the potential of freediving, which also brings livelihood opportunities to communities and promotes caring for the environment.
"It is an activity balances and respects nature. The practice of freediving can also greatly help us in improving our health, both physically and mentally," Rabat stressed.
Gert Leroy, an instructor, said freediving helps in relaxation of the mind and letting go of tension.
"It's not important how deep do you dive. At the end of the day, what's more important is what free diving does to you," he said.
In order to become a freediver, Leroy said one should at least know how to swim as it involves going deep without a breathing equipment.
"It would be dangerous if you start freediving without being comfortable in the water. It's not about being a good swimmer but being comfortable in the water. That should be the first step," he added. (PNA)