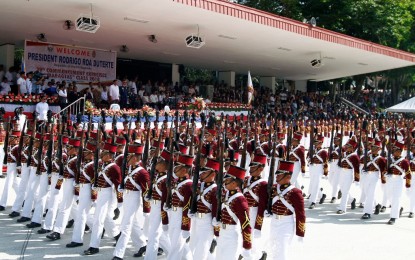 MANILA – House minority leader and 4Ps party-list Rep. Marcelino "Nonoy" Libanan is batting for the passage of new legislation that would strengthen the Philippine National Police Academy (PNPA) as a self-governing public higher educational institution.
Libanan has filed House Bill 3507 -- the proposed PNPA Charter of 2022 -- to build up the school that produces commissioned lieutenants for the country's 202,000-strong police force.
"In the years ahead, we are counting on the PNPA to produce the best and the brightest law enforcement officers imbued with exceptional leadership qualities and the highest standards of professional competence and personal integrity," Libanan said in news release on Sunday.
Libanan's bill guarantees that the PNPA would enjoy academic freedom, in accordance with the 1987 Constitution's mandate for all higher learning institutions to determine for themselves "who may teach, what may be taught, how it shall be taught, and who may be admitted to study."
At present, all PNPA graduates earn a Bachelor of Science in Public Safety degree, and are then commissioned as police lieutenants, or as inspectors of the Bureau of Fire Protection and the Bureau of Jail Management and Penology.
Under Libanan's bill, the PNPA would autonomously provide advanced instruction and specialized education in public safety, social defense, internal security, human rights, and other relevant fields of study.
It will also establish plans, policies, programs, curricula, and standards of teaching and training, and will create, develop and implement a system of faculty placement, promotion and development.
Under the bill, the PNPA would be governed by a new nine-member board of trustees, with the secretary of the Interior and Local Government and the chief of the Philippine National Police sitting as chairperson and co-chairperson, respectively.
The Commission on Higher Education chairperson, the National Police Commission vice chairperson, and the PNPA Alumni Association Inc. chairperson would also sit as board trustees.
The rest of the trustees would be composed of the chairpersons of the House Committee on Higher and Technical Education; Senate Committee on Higher, Technical and Vocational Education; House Committee on Public Order and Safety; and the Senate Committee on Public Order and Dangerous Drugs.
The PNPA currently does not have a governing board. It is being supervised by a "command group" composed of a director, a deputy director, and a chief of staff who are all police generals.
Azurin honored
Philippine National Police (PNP) chief Gen. Rodolfo Azurin Jr. received a testimonial parade from the PNPA cadets in Silang, Cavite on Sept. 23.
"It is a fitting testament to the credibility he has established through his values and actions that are worthy of emulation during his nearly 37 years of distinguished service in the military and police," PNPA spokesperson Col. Louie DC. Gonzaga said Saturday.
Azurin is the 28th PNP chief and the first police head appointed under the Marcos administration.
Gonzaga said the honor was very timely as Azurin was the one who championed the Malasakit+Kaaayusan+Kapayapaan=Kaunlaran Thrust in response to the national government's quest for a better country.
Azurin, in his address to the PNPA cadets, said he wants a better, peaceful and concerned PNP to serve all Filipinos.
"Sa aking pamumuno sa buong hanay ng kapulisan, katuwang ninyo po kami sa hangarin ng isang maayos, mapayapa, at may malasakit sa bawat Pilipino para sa isang maunlad na bansa (Under my leadership, we are your partner in achieving orderly, peaceful and compassionate PNP for every Filipino in a prosperous country)," he said.
Azurin also oversaw the opening of the Academics Hall, Tatak PNPA Comfort Rooms, Mess Hall Kitchen, Cadet Barracks B-81, Visitor's Lounge, COMMEL Building, Academics PCAI Hall, Grandstand Comfort Room, Crime Scene Plaza, Classroom Building B-43, and Mess Hall Kitchen Extension.
Azurin was presented with the winning painting (Pagtanaw) of two PNPA cadets in this year's Buwan ng Wika activities alongside a testimonial dinner where he received updates on various PNPA projects. (with reports from Lloyd Caliwan/PNA)