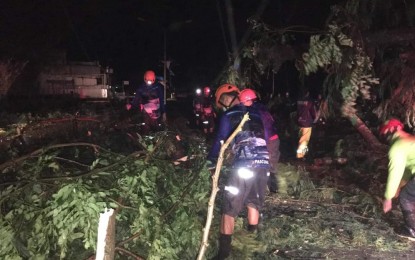 MANILA – The Armed Forces of the Philippines (AFP) on Monday said humanitarian assistance and disaster response (HADR) teams have been "forward deployed" to areas in Northern, Central, and Southern Luzon which are in the path of Super Typhoon Karding as early as Sept. 25.
This is to help residents that might be affected by the typhoon, said AFP public affairs office chief, Col. Jorry Baclor, in a statement.
"In Northern Luzon, AFP's Northern Luzon Command utilized its 203rd Ready Reserve Battalion to support the pre-emptive evacuation conducted by the MDRRMO in four barangays of Aritao, Nueva Vizcaya. The Marine Battalion Landing Team 10 also rescued four families near the riverbanks in Barangay Esteves, Casiguran, Aurora on Sept. 25," he added.
Around 2:30 a.m. Monday in Iba, Zambales, Baclor said troops from the Philippine Army's 3rd Mechanized Battalion together with the Philippine National Police and other HADR units rescued the residents trapped by floodwaters in Barangays Cadmang, Mabanglet, and Apo-apo of Cabangan town.
These families were immediately taken to the nearest evacuation center.
"In Quezon province, the 1st Infantry Battalion, Philippine Army under the Southern Luzon Command conducted a pre-emptive evacuation in Infanta and General Nakar on Sept. 25. The troops were able to evacuate around 300 families to safety," Baclor added.
The soldiers also conducted road clearing operations in Anawan, Polilio Island to ensure that the road is passable especially to rescue vehicles.
"As of Sept. 26, the AFP is providing assistance to the local disaster risk reduction and management offices in Karding-affected areas to help the affected residents. Air force and naval assets were pre-positioned in strategic areas ready for deployment for relief, search and rescue operations," he added.
Unit commanders were also directed to utilize available assets for rapid damage and needs assessment (RDANA) of national and local officials to see the extent of damage and identify the needs of the people.
As this developed, the Philippine Air Force (PAF) announced that it has activated its disaster response task units (DRTU) and in coordination with Erenito Legaspi, coordinator, Provincial Disaster Risk Reduction and Management Council (PDRRMC) Tarlac, they conducted roving and assessment along Hacienda Luisita, Tarlac City before dawn on Monday.
"The Tactical Operations Group 3 deployed its DRTU teams and rescued one Nissan and one Toyota Fortuner that were stranded along Hacienda Luisita Road. Meanwhile, another DRTU team assisted three vehicles near exit Subic-Clark-Tarlac Expressway (SCTEX)," PAF spokesperson Col. Ma. Consuelo Castillo said.
As of this posting, PAF rescue and relief missions are ongoing to save families from the flooding brought by "Karding".
Meanwhile, Castillo said the PAF's S-70i "Black Hawk" helicopters conducted RDANA over the areas of Luzon greatly affected by "Karding" Monday morning.
"Likewise, utilizing the PAF's Bell 412 Utility Helicopter, President Ferdinand R. Marcos Jr. flew over Bulacan, Nueva Ecija, and Tarlac for an aerial inspection following a briefing with the NDRRMC to assess the damage brought upon by the typhoon," she added.
Other PAF helicopters are now also deployed and are conducting RDANA in the affected areas of Southern Luzon.
"Aside from their capability to do aerial damage assessments, our deployed helicopters can immediately land for search and rescue operations and airlift people from disaster-stricken areas to safer grounds. Aside from these deployed assets, other PAF aircraft and personnel are readily available upon the direction of Unified Commands as force providers for disaster relief operations," Castillo said.
She added that the PAF will continue to utilize all available air assets for HADR operations like search-and-rescue, relief operations, and other related missions to extend assistance to the thousands of people affected by "Karding". (PNA)