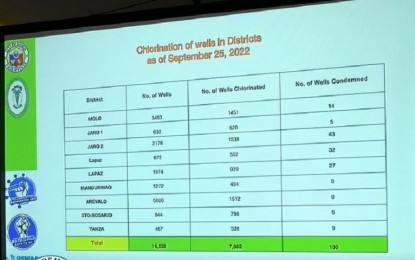 ILOILO CITY – The number of acute gastroenteritis (AGE) cases here has reached 713 with the addition of 12 more on Sept. 25 while cholera cases climbed to 30 with seven new confirmed cases, the City Health Office reported on Monday.
"Of the seven (cholera) cases, two were from Mandurriao, three from Arevalo, and two from Molo," said CHO acting health officer, Dr. Annabelle Tang, in a press conference on Monday.
Further, of the 14 specimens from water wells in areas with cases that were taken by the Department of Health (DOH) and sent to the Research Institute for Tropical Medicine (RITM) on Sept. 14, eight were found positive for cholera, bringing to nine the total number of wells that were already found positive for the disease.
"After this (press conference) we will be condemning wells. It is very unfortunate that despite our chlorination, it has not stopped since probably we have already reached our water table and as we have said before they are very near the canals and septic tanks. Even if we chlorinate, there is constant exposure to contaminants," Tang said.
Of the 713 acute gastroenteritis cases in the city, 652 have recovered while 13 died.
Dr. Marie Jocelyn Te, Medical Officer IV of the Department of Health Western Visayas Center for Health Development, in a separate interview said cholera is one of the notifiable diseases under AGE.
If not treated at once, cholera, which is characterized by painless abdominal discomfort, can accelerate into moderate to severe dehydration, she added.
Meanwhile, Tang said the DOH will conduct on Tuesday bacteriological tests for water wells where the new eight cases sourced their supply, as well as in other barangays with a high incidence of acute gastroenteritis.
Of the 16,528 water wells in the city, 7,892 have been chlorinated, 8,506 are yet to be inspected and 130 were already condemned.
Mayor Jerry P. Treñas, in the same press conference, said they are glad that those affected by AGE were diagnosed early on as they have been promptly treated, which prevented more deaths.
He said he will meet with officials of the Metro Pacific Iloilo Water, one of the water distribution utilities in the city and ask them to hasten their development works as the city needs to have working water pipes.
"We really have to do something about it," Treñas said. (PNA)