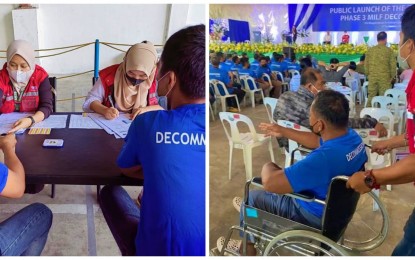 MANILA – The decommissioning of combatants and weapons of the Moro Islamic Liberation Front (MILF) proves that the attainment of lasting peace in Mindanao is within the government's reach, President Ferdinand "Bongbong" Marcos Jr. said Wednesday.
"This milestone event brings us closer to securing a lasting peace in Mindanao," Marcos said in a Facebook post.
Marcos issued the statement, as he welcomed the resumption of the third phase of the decommissioning process in Sultan Kudarat, Maguindanao on Tuesday.
He said the decommissioning of Moro fighters is a testament to his administration's resolve to secure peace in the Bangsamoro Autonomous Region in Muslim Mindanao (BARMM).
"The resumption of the decommissioning of former Bangsamoro Islamic Armed Forces fighters and their weapons in Maguindanao yesterday reaffirms our commitment to the peace process and the BARMM region," Marcos said.
The Phase 3 Decommissioning of the MILF resumed at the old capitol grounds in Simuay village in Sultan Kudarat town.
The decommissioning process forms part of the security components of the normalization track of the Comprehensive Agreement on the Bangsamoro (CAB), the landmark peace deal forged between the government and MILF in 2014.
Since the start of decommissioning process in 2015, around 19,345 MILF combatants have been decommissioned and 2,175 weapons have also been put beyond use.
Under the first phase of decommissioning, some 145 members of MILF- Bangsamoro Islamic Armed Forces (BIAF) and 75 of their weapons were decommissioned.
The second phase in 2019 saw the decommissioning of around 12,000 MILF-BIAF members and 2,100 of their weapons.
A total of 14,000 combatants are targeted to be decommissioned under Phase 3 of the decommissioning process.
At least 7,200 MILF fighters have been decommissioned when the third phase was launched on Nov. 8, 2021.
With the resumption of the decommissioning process, around 5,500 combatants are targeted to be decommissioned until the end of 2022.
The decommissioning process is being facilitated by the Independent Decommissioning Body (IDB), which was created by the Philippine government and MILF negotiating panels as part of the Annex on Normalization of the CAB.
The IDB is composed of representatives from the Governments of Turkey, Norway, the Kingdom of Brunei, and local experts nominated by the panels.
Accompanying the process are provisions of financial assistance, social entrepreneurship projects, skills development training, and scholarship programs for combatants' children, among others.
The political part of the Mindanao peace process is the passage of BOL and the creation of an expanded political entity now called BARMM. (PNA)