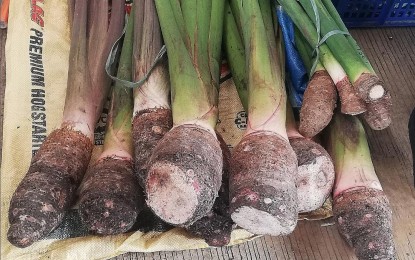 TUBA, Benguet – Amid skyrocketing prices of fertilizer and pesticides, taro farmers in this town have opted to return to organic production, the Municipal Agriculture Office said on Wednesday.
"So that they (farmers) will not have to increase the prices of their produce," municipal agriculturist Marlyn Catanes said on the sidelines of the second day of the ongoing Ava (taro) Festival here.
She said farmers used to produce taro naturally without the use of fertilizer and pesticides but the commercial quantity demand for the product made the farmers shift to the use of chemical fertilizer.
Catanes recalled that the taro harvest was good, reaching about 20 to 25 tons a year, but a decline was observed in 2015 due to diseases as a result of the use of commercial fertilizer.
"Nagkakaroon ng butas ang mga laman (the root crops started to have holes)," she said, adding that pests and diseases emerged as the soil became resilient to commercial fertilizer.
Catanes said that while there is an effect on the production, the expensive cost of commercial fertilizer is a good sign for the farmers to value the traditional way of production and allows the soil to regenerate and recover from the chemicals.
She said they continue to advocate for organic agriculture amid health benefits, environmental safety, and higher cost of production using commercial fertilizer.
Catanes added taro root crop is important to this town considering the income it gives and its utilization as a salient part of the cultural practices.
The Chinese taro variety or the small ones are sold locally while the big ones are bought in big quantities by makers of taro cakes and other baked goodies in Metro Manila.
The big ones are also served during cultural activities or the traditional cañao or kanyaw festival of the Igorots.
Locally called "pising" in the Ibaloi language, the root crop is generally is used as an alternative to rice during gatherings and is eaten with boiled meat that is dipped in salt with chili.
Its stem is cooked in the soup where the meat is stewed and removed from the pot once cooked. (PNA)