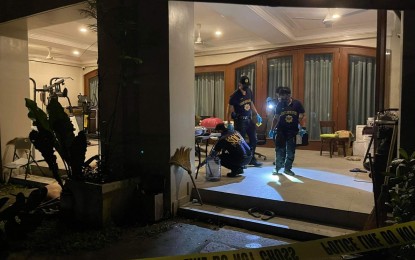 MANILA – The Southern Police District (SPD) has filed criminal complaints against the suspect behind the killing of two protection agents in a posh subdivision in Makati City.
SPD Director Col. Kirby John Kraft said the suspect, identified as Julius Cortez, 43, is facing two counts of murder for the deaths of Jay Ar Tomenio and Eugene Sitjar, and theft filed before the Makati City Prosecutor's Office.
After a tip-off from a security guard, police arrested Cortez on Tuesday in Dasmariñas Village, also in Makati City.
Recovered from the suspect were a .40 caliber pistol and two magazines.
Initial investigation showed that one of the helpers informed the owners of the house at South Forbes Park Village about the shooting incident that led to the death of the two men.
A witness, known as alias Ben, said the suspect was drunk then later on, he heard successive gunshots.
He said he saw the victims dead on the spot.
It was also found out that the firearms owned by the victims were missing.
Kraft urged the public to continue helping the police by reporting illegal activities.
"I am grateful for the cooperation of the security guard who tipped off our policemen to the suspect's whereabouts. You can help us a lot, so I ask the public to continue to contact and support the PNP by reporting illegal activities or the whereabouts of those wanted by the law so that we can maintain a safe and peaceful southern Metro Manila," Kraft said. (PNA)