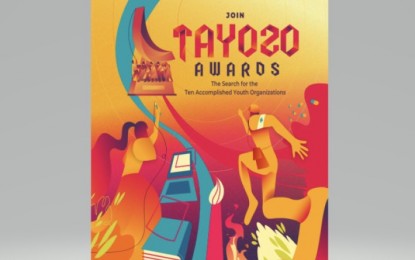 MANILA – Eligible Filipino youth groups may now join the Ten Accomplished Youth Organizations (TAYO) Awards Foundation's latest search for some 10 "accomplished and proactive" organizations in the Philippines.
Interested applicants may submit their entries until Oct. 26, according to the TAYO Awards Foundation, the country's premiere award giving body that recognizes and supports the excellent contributions of Filipino youth organizations.
"The Ten Accomplished Youth Organizations or TAYO Awards Foundation is once again launching the search for accomplished and proactive youth groups in the Philippines. Application period will run from Sept. 27 to Oct. 26 and is open to all interested youth organizations," it said.
"TAYO Awards is open to formal and non-formal youth organizations nationwide consisting of at least five members, with the majority of its members under 30 years old who have projects from January 2021 to September 2022," the non-government organization (NGO) added.
This year's theme of TAYO is anchored on "Siklab," which refers to the undying flare among youth groups to make a difference, inspire hope and unity, and positively influence future generations.
Applicants are allowed to submit multiple entries, on condition that they are different projects or programs.
The submitted entries will undergo a selection process based on a criteria which include project impact, volunteerism and citizenship, creativity and innovation, and sustainability.
The entries may fall under five categories, namely culture, arts, and heritage; education and technology; environment, disaster risk reduction and climate change adaptation; health, well-being and human development; and livelihood and entrepreneurship.
On top of TAYO Trophy by Toym Imao, the Top 10 winners and 10 finalists will receive PHP50,000 and PHP20,000 seed grants, respectively, to help fund their ongoing projects or start new ones.
TAYO Executive Director Rhyn Esolana said the 20th search marks TAYO's second decade in recognizing the efforts of the youth towards nation-building.
"This big milestone will solidify our continuous commitment to the next generations of youth organizations striving to make a positive impact in their communities," Esolana said.
"The Search has been running for 20 years, so you might think that the youth would have run out of ideas by now, but that has not been the case. Every year, we continue to be in awe of how these young people change their communities in groundbreaking ways. We hope to award organizations that have blazed trails, ignited programs, and sparked inspiration wherever that may be in the Philippines." he added.
In 2021, the foundation initiated TAYO 19 which was anchored on the theme "Ahon", focusing on the transition from a pandemic world to a new normal.
On the other hand, TAYO 18: Bayanihan run, a special digital edition of its annual awards, was launched in 2020 to recognize youth groups whose programs and projects have responded to the pandemic and the enhanced community quarantine at the time.
TAYO Awards Foundation is co-presented by Coca-Cola Foundation Philippines Inc. and San Miguel Corporation. Since 2002, TAYO is the biggest platform that showcases young Filipinos' dynamism and contribution to community development.
Interested youth organizations may visit www.tayoawards.net to apply. (PNA)