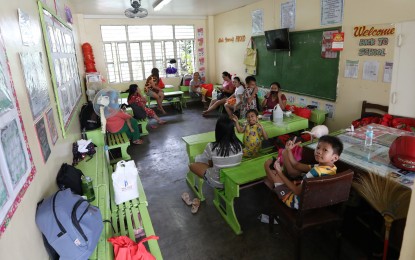 MANILA – Vice President and Department of Education (DepEd) Secretary Sara Duterte reiterated on Thursday that public schools can only be used as evacuation centers for 15 days at the most.
Duterte made the statement during the budget deliberation of DepEd with the Senate Committee on Finance as an answer to Senate Pro Tempore Loren Legarda's query.
"There's 63 percent of schools which are used as evacuation centers according to a study. I'd like to know about the learning conditions during disasters so that there's learning continuity being a disaster-prone country," Legarda said.
Duterte said she recently released a department order instructing DepEd field offices not to allow public schools to be used as evacuation centers beyond 15 days.
"I already raised this as well with the secretary of DILG (Department of the Interior and Local Government) so he can speak to LGU (local government unit) officials as well that this is the direction of the Department of Education," Duterte said, noting that the agency has discovered that some of the schools are still being used as evacuation centers in the affected areas of Typhoon Odette and the landslide in Leyte.
Meanwhile, DepEd Governance and Field Operations Undersecretary Revsee Escobedo said if a municipality has no evacuation center and resorted to using its public schools, teachers are instructed to use an alternative mode of learning delivery.
Escovedo also urged LGUs not to use public schools as evacuation centers beyond three days.
In Nueva Vizcaya, he said the evacuees affected by the recent Typhoon Karding used public schools as a shelter for one to two days.
The DepEd and its attached agencies are proposing to spend a total of PHP710.658 billion next year under the 2023 National Expenditure Program.
It is PHP77.3 billion or 12.2 percent higher than its 2022 approved budget with increases in the Support to School and Learners Program as public schools resume face-to-face classes. (PNA)