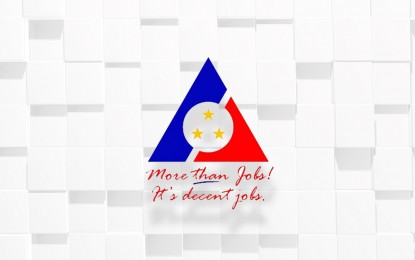 MANILA – The Department of Labor and Employment (DOLE) has initially allocated PHP455.6 million for the ongoing emergency employment program in the Central Luzon and Calabarzon regions, which were ravaged by Super Typhoon Karding last week.
Through the Tulong Panghanapbuhay sa Ating Disadvantaged/Displaced Workers (TUPAD) program, informal sector workers in the regions are employed for a minimum period of 10 days to assist in clearing, cleaning, de-clogging of canals, debris segregation, materials recovery, and other activities needed in the rehabilitation of their communities.
A statement released on Sunday said Labor Secretary Bienvenio Laguesma vowed continuous support to workers affected by the typhoon.
He assured the provision of additional TUPAD funds if the initial allocation will not be sufficient and underscored the program's enhanced implementation by providing skills training to beneficiaries.
TUPAD is an institutionalized program implemented especially during calamities, typhoons, and disasters.
It is a community-based amelioration program that provides emergency employment for displaced, underemployed, and seasonal workers for a minimum period of 10 days to a maximum of 30 days, depending on the nature of work to be performed.
The salary of beneficiaries is based on the prevailing minimum wage in the region.
DOLE Central Luzon head Geraldine Panlilio said a total of PHP365 million has been allocated for the program's implementation in partnership with the local government units and their respective Public Employment Service Offices in the region.
Panlilio said 14,000 beneficiaries are engaged under the program, while 29,000 others are set to be employed next week.
The DOLE Regional Office has also disbursed the salaries of 31,333 TUPAD beneficiaries in Bulacan, Tarlac, and Bataan right after the typhoon's onslaught last week.
To upgrade the skills of emergency employment beneficiaries, Panlilio said the DOLE Central Luzon is partnering with the Technical Education and Skills Development Authority (TESDA) for the carpentry skills training of workers in Bulacan, Aurora, and Nueva Ecija.
"The beneficiaries will not only work for 10 days, but they will also gain carpentry skills. In this way, they will not only construct their own homes, but they might also be employed by construction companies," Panlilio said as she highlighted that construction skills are in demand because of the numerous construction projects in the region.
Meanwhile, DOLE-Calabarzon chief Exequiel Ronie Guzman said PHP90.6 million has been allocated initially for the emergency employment of informal sector workers who were affected by "Karding" in the region.
This will benefit more than 19,800 workers in the hard-hit areas of Polilio Island, Burdeos and several other towns of Quezon, Rizal, Laguna, Batangas and Cavite. (PNA)