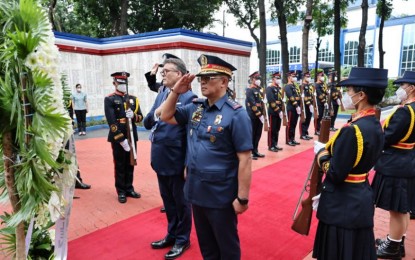 MANILA – The Philippine National Police (PNP) and the Australian Federal Police (AFP) on Tuesday paid tribute to their fallen colleagues in observance of the 'National Police Remembrance Day'.
PNP chief Gen. Rodolfo Azurin Jr., Acting Australian Ambassador to Manila Richard Sisson and ranking officials of the two institutions held the commemoration rites at the PNP headquarters in Camp Crame, Quezon City.
"The National Police Remembrance Day that we are celebrating today reminds us of the exceptional dedication to duty, selfless service, and unconditional love for our countries and countrymen of our courageous men in uniform. And this surely will forever etch in our respective organizations' milestone of success and in the history of the Philippines and Australia." Azurin said in his message.
The 'National Police Remembrance Day' is celebrated to remember and honor all fallen police officers who put their lives on the line to protect the community and both countries.
Azurin also joined the families and loved ones of police front liners who lost their lives in the line of duty amid the coronavirus disease 2019 (Covid-19) pandemic.
"We thank them on behalf of this grateful nation, for without their arduous work in enforcing the health and safety protocols, and running the quarantine facilities and border operations, there would have been little chance of slowing the spread of COVID-19 and preventing our health system from being overrun," said Azurin.
The country's top cop also urged everyone to work together and preserve what the sacrifices of gallant heroes have achieved.
"Let us all remain worthy of it -- forever committed to the country they loved and the freedom they fought and died for," Azurin said.
The National Police Remembrance Day was introduced by the Australian police commissioners to honor officers who died while on duty.
It was first held in 1989 and is commemorated annually on the feast day of Saint Michael the Archangel, the patron saint of police officers. (PNA)