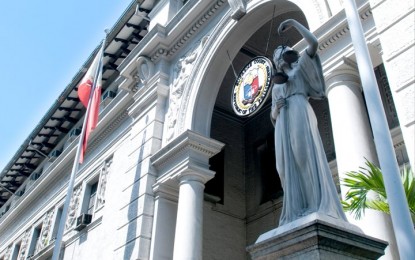 MANILA – The Supreme Court (SC) en banc on Tuesday directed former Communications Undersecretary Lorraine Marie Badoy to give her side in accusations that she threatened the life and safety of a Manila judge who ruled in favor of the Communist Party of the Philippines-New People's Army (CPP-NPA) in the proscription case seeking to outlaw the group.
In a statement, the SC resolved to order Badoy "to show cause within a non-extendible period of 30 calendar days from the time that this resolution is served on her, why she should not be cited in contempt of the judiciary and therefore of this court."
Indirect contempt is penalized by up to 6 months imprisonment and fines.
In her social media posts, including one dated September 24, Badoy said the decision of Manila judge Marlo Malagar on the CPP-NPA proscription case was written by "active operatives" of the group.
Malagar ruled that the insurgency group's Ten Point Program, "readily shows that the CPP-NPA is organized or exist, not for the purpose of engaging in terrorism" and that none of the nine incidents attributed to the organization caused "widespread and extraordinary fear and panic" among the populace. She characterized the incidents as "pocket and sporadic occurrences".
Badoy denied threatening the judge but was just exercising her "constitutional right to an opinion by questioning what has enraged the Filipino people."
"A threat is a statement of an intention to inflict pain or damage. An 'If -then' statement, on the other hand, is merely a hypothetical syllogism that are workhorses of deductive logic that I needed to use to make my point," she posted on Facebook last week.
"So, I hope I am clear here. It is not I who has the track record for murders, massacres, tortures, rape, and inhumanity but the terrorist CPP-NPA-NDF (National Democratic Front)," she added.
The court, acting motu proprio (on its own), directed Badoy to respond under oath "whether or not she posted or caused the posting of the statements attacking the Sept. 21, 2002 resolution rendered by the regional trial court in any and all of her social media accounts."
She was also asked to respond whether or not her social media post encouraged more violent language against the judge concerned in any or all of her accounts and "whether or not her post, in the context of social media and in the experience of similar incendiary comments here or abroad, was a clear incitement to produce violent actions against a judge and is likely to produce such act and whether or not her statements on her social media accounts, implying violence on a judge, is part of her protected constitutional speech."
Badoy served as spokesperson of the National Task Force to End Local Communist Armed Conflict, created in 2018 under Executive Order No. 70 of the Duterte administration, that is tasked to employ a whole-of-nation approach to end communism and institute peace-building initiatives. (PNA)