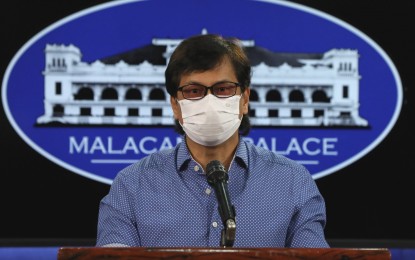 MANILA – All 16 regional offices of the Department of the Interior and Local Government (DILG) have been conferred with the International Organization for Standardization (ISO) 9001: 2015 certification for conforming with quality management system standards.
In a statement Wednesday, Interior Secretary Benjamin Abalos Jr. said the conferment of the ISO certification to regional offices (RO) is a testament to the department's commitment to continuously raise the bar of quality services to local government units (LGUs) and the communities.
"The DILG central and regional offices have worked so hard for the alignment of the QMS (Quality Management System) at the central and regional offices. This milestone is a welcome recognition of the department's unparalleled dedication to our quality policy and client satisfaction, being matino, mahusay, at maaasahang kagawaran (an orderly, excellent, and reliable department)," Abalos said.
The ISO certificate of registration conferred to the DILG indicates that it operates a management system that has been assessed as conforming to the ISO 9001: 2015 certification for the following scope of activities: public administration covering policy formulation, provision of technical and administrative services, performance oversight, and rewards and incentives.
These regional offices are Regions 1 (Ilocos), 2 (Cagayan Valley), 3 (Central Luzon), 4-A (Calabarzon), 4-B (Mimaropa), 5 (Bicol), 6 (Western Visayas), 7 (Central Visayas), 8 (Eastern Visayas), 9 (Zamboanga Peninsula), 10 (Northern Mindanao), 11 (Davao region), 12 (Soccsksargen), 13 (Caraga), National Capital Region, and the Cordillera Administrative Region.
"Now that the alignment of all 16 ROs is complete, we are looking forward to bringing the ISO certification down to our provincial and field offices. This is to ensure that quality processes and programs within the DILG are documented and synchronized with the processes at the central office," Abalos said.
The ISO certification certifies that a management system, manufacturing process, service, or documentation procedure has all the requirements for standardization and quality assurance.
ISO is an independent, non-governmental, international organization that develops standards to ensure the quality, safety, and efficiency of products, services, and systems.
Abalos commended the DILG's overall deputy quality management representative, Assistant Secretary Ester Aldana, the process owners, and all DILG central and regional personnel for ensuring that the department maintains its ISO certification and stays at par with global standards of quality.
The DILG central office established its QMS in 2015 in compliance with Executive Order 605 directing all government offices to implement QMS that will institutionalize structures, mechanisms, and standards in government to ensure quality in systems and processes in government operations.
The DILG then received its first ISO certification in 2016 and the subsequent ISO 9001: 2015 certification in 2019 for its 80 QMS enrolled processes.
Since then, the DILG has been taking strides to replicate the best practices of ISO standards from the central to the regional offices.
Among the certified sites at the central office are the Bureau of Local Government Development, Bureau of Local Government Supervision, Office of Project Development Services, National Barangay Operations Office, Administrative Service, Information Systems and Technology Management Service, Financial and Management Service, Internal Audit Service, Legal and Legislative Liaison Service, Planning Service, Public Affairs and Communication Service, Project Management Offices, Office of the Assistant Secretaries, Office of the Undersecretaries, and Office of the Secretary. (PNA)