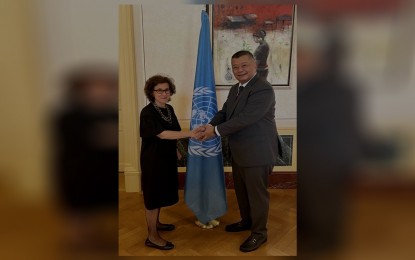 MANILA – Department of Justice (DOJ) Secretary Jesus Crispin Remulla has met with the United Nations Acting High Commissioner for Human Rights in Geneva, Switzerland on Tuesday.
In his meeting with Nada al-Nashif, Remulla underscored the progress in the Philippines' ongoing efforts to strengthen domestic human rights mechanisms, according to a Department of Foreign Affairs (DFA) media release.
Remulla highlighted the department's reforms in decongesting prisons and the release last month of 371 detainees who had served their sentences.
He said the DOJ would continue such releases and take measures to strengthen the witness protection program.
Al-Nashif recognized the Philippines' efforts to address such issues as enhancing accountability, engagement with the UN, and human rights-based approach to drug control.
The two noted the good momentum in the work of the UN Joint Program on Human Rights –
a three-year technical cooperation program between the Philippine government and the UN that supports domestic institutions in their ongoing human rights protection and promotion programs.
Remulla reaffirmed that the Philippines would continue to engage constructively on human rights with the UN and the international community.
He was accompanied by Ambassador Evan P. Garcia, Permanent Representative to the UN in Geneva, Undersecretaries Jesse Hermogenes Andres and Raul Vasquez, Assistant Secretary Kira Danganan-Azucena of the DFA, Ambassador and Deputy Permanent Delegate Maria Teresa Almoquela, and other officials. (PR)