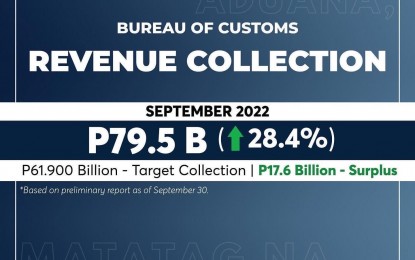 MANILA – The Bureau of Customs (BOC) exceeded its target collection by 28.4 percent in September.
Based on its preliminary data released Wednesday, the BOC said it has collected a total of PHP79.5 billion in revenues last month, higher by PHP17.6 billion as against its PHP61.9 billion target collection.
The figure also showed an increase of PHP21.9 billion in earned revenues and a 38.1 percent increase in collected revenues as compared to figures from September last year.
The positive collection is attributed to the stringent border control measures by Commissioner Yogi Filemon Ruiz to plug revenue leakages and strengthen the nation's trade facilitation and revenue collection performance.
The BOC also continues to sustain its positive performance throughout 2022.
Based on latest data, the bureau has collected PHP638.7 billion in total revenues, or 17.8 percent higher than its target for the months of January to September.
The figure shows an increase of PHP168.9 billion or 35.9 percent increase in revenues in the same period last year.
Ruiz has been pressing all bureau offices and collection districts to sustain their exceptional performance throughout the year by taking advantage of the BOC's modernization programs and enhanced reform initiatives.
These are aligned with the eight-point socioeconomic program of President Ferdinand Marcos Jr. (PNA)