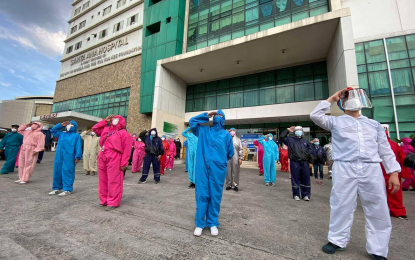 MANILA – The Department of Budget and Management (DBM) on Wednesday approved the release of around PHP11.5 billion for the distribution of One Covid-19 Allowance (OCA) or Health Emergency Allowance (HEA) claims to over 1.6 million qualified beneficiaries.
In a press statement, the DBM said the fund will go to the Department of Health (DOH), the agency in charge of giving the OCA or HEA to eligible public and private healthcare workers (HCWs) and non-HCWs.
"The Special Allotment Release Order (SARO) covers unfunded OCA/HEA claims of healthcare and non-healthcare workers for the period of January to June 2022," the agency said.
The DBM said the latest release of funds will cover the unfunded portion of some 2,613,331 approved OCA/HEA claims by the DOH, as of Sept. 5, 2022, with a total funding requirement of PHP18.7 billion.
The DBM noted that it released around PHP7.92 billion of the PHP18.7 billion on Feb. 14 this year to cover the payment of 995,671 OCA/HEA claims.
Budget Secretary Amenah Pangandaman said the approval of disbursement of PHP11.5 billion for HCWs' Covid-19 benefits demonstrates the current administration's commitment to give them the necessary support and assistance.
"Our healthcare workers deserve all the support and assistance from their government. They've been risking their lives to save and protect our people amidst this still prevailing pandemic. This is the least we can do for them," Pangandaman said.
The provision of OCA is in pursuant to DOH's Special Provision No. 14 under the Fiscal Year (FY) 2022 General Appropriations Act, which stipulates that the amount of Covid-19 benefits shall vary according to risk exposure of the HCW and non-HCW in particular setting.
The OCA was subsequently replaced by HEA under Republic Act 11712, an act granting mandatory continuing benefits and allowances to public and private health workers during the Covid-19 pandemic and other future public health emergencies.
Recipients who are identified to be at high risk for Covid-19 will receive PHP9,000 monthly, while those who are deployed in moderate and low-risk areas are entitled to a monthly benefit of PHP6,000 and PHP3,000 respectively.
On Monday, the DBM has also approved the release of a SARO amounting to PHP1.04 billion to cover the special risk allowance of eligible public and private health workers involved in the Covid-19 response.
In September, President Ferdinand "Bongbong" Marcos Jr. vowed to improve the working conditions of nurses and health workers in the country and abroad.
Marcos also promised to reduce the disparity in salaries between government hospitals with those in the private sector and the uneven distribution of nurses in different areas nationwide by addressing issues related to health facilities, benefits, and security of tenure. (PNA)