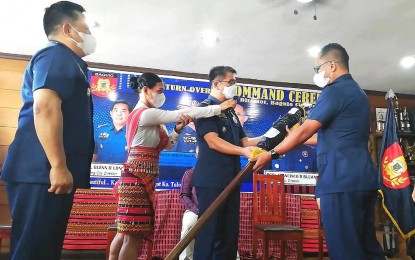 BAGUIO CITY – The newly installed director of the Baguio City Police Office (BCPO) ordered all units in the country's summer capital to heighten police visibility especially at night.
"When all citizens of Baguio are sleeping, they should be visible, during those unholy hours they should be visible, especially in drinking establishments and areas which are prone to crime," Col. Francisco Bulwayan said on the sidelines of the turnover rites at the BCPO headquarters on Wednesday.
Bulwayan, who replaced Col. Glenn Lonogan, said the city has already established pre-positioning of logistics in crime-prone areas, points of convergence and residential areas.
He will also meet with key personnel of the BCPO to lay down plans and programs, particularly those in support of the city government's 'smart city' vision.
Bulwayan said he will also manage resources in adapting to the new normal, especially with the return of students for in-person classes and tourists.
Under Lonogan's leadership, the BCPO received its gold eagle award from the national headquarters of the Philippine National Police for institutionalizing processes and systems adept with the Performance Gathering System (PGS) of the whole PNP organization.
It is the first city police office in the country to receive the gold eagle award, in recognition of its achievements in institutionalizing and professionalizing the service.
The PGS is part of the PNP's Patrol Plan 2030 which began in 2011 and aims to institutionalize and professionalize the service by instilling good practices, correcting the erroneous ones, and adopting the rules and laws on the performance of their functions.
"It is obligatory upon the Baguio City police director to sustain the gains considering the city's importance to the tourism sector of the country. I was guided by that -- anti-criminality and anti-drugs to assure that crime volume drops and sustain the most peaceful city in Southeast Asia tag given by Numbeo in 2018 and the Clean City award where the safe city concept is a factor," Lonogan said.
He said that police visibility was a factor that allowed the BCPO to attain a high-quality performance.
Lonogan also urged all personnel to support the leadership of Bulwayan to sustain the gains already achieved by the BCPO. (PNA)