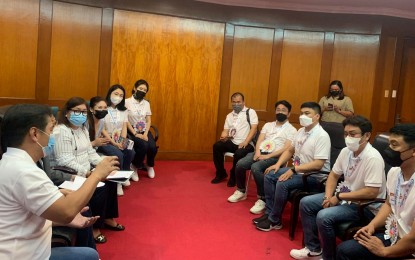 BACOLOD CITY – Mayor Alfredo Abelardo Benitez said on Wednesday he is eyeing the creation of a Korean Town to attract its nationals to visit.
In a statement, Benitez said he discussed the plan with the representatives of Eduglobe, a consulting company for international education and culture exchange and overseas training, and Daegu-Gyeongbuk International Exchange Association, who paid him a courtesy visit at the Bacolod City Government Center on Tuesday.
"We were able to discuss about the creation of Korean Town in Bacolod to invite more Koreans to the city," he said.
Benitez also said as more tourists are coming to the Masskara Festival, which runs until Oct. 23, he is planning to get in touch with airline companies to mount direct flights from Seoul to Bacolod-Silay Airport.
Councilor Celia Flor, who joined the mayor during the meeting, said the discussions with the groups from South Korea aim to strengthen the ties between the cities of Bacolod and Daegu.
In 2013, a sister city agreement has been forged between Bacolod and Seogu District, Daegu Metropolitan City for exchanges in the fields of tourism, culture, and trade.
Councilor Em Ang, who visited Daegu Metropolitan City in 2019, earlier said Daegu has a lot of similarities to Bacolod such as big festivals closely tied to their economy.
The Daegu Festival held every month of May is like the Masskara Festival while Chemeck Festival, which is a chicken and beer festival held every July, is similar to Bacolod's Inasal Festival, she added. (PNA)