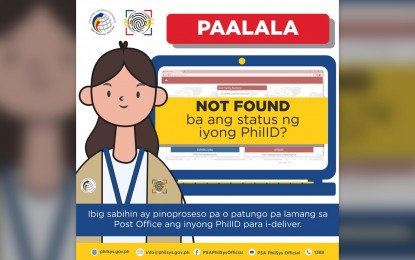 TACLOBAN CITY – Only 934,627 national identification (ID) cards have been delivered in Eastern Visayas, representing 27 percent of the 3.46 million residents who completed the two-step registration process of the Philippine Identification System (PhilSys).
The Philippine Statistics Authority (PSA) said the number represents the physical national identification cards delivered by the Philippine Postal Corporation in the region as of the end of August 2022.
Of the 934,627 ID cards, 815,303 were delivered in Leyte province, 43,203 in Samar, 24,727 in Southern Leyte, 22,999 in Eastern Samar, 14,498 in Biliran, and 13,897 in Northern Samar.
"The delivery is not as fast as expected by many since it goes through validation process to ensure that there's no duplication of registration," said PSA Eastern Visayas PhilSys focal person Rose Ballera in an interview Thursday.
The PSA is eyeing the delivery of 30 million physical cards nationwide and the establishment of 20 million digital national IDs this year.
It also plans to pilot test the printable version of the digital cards within this month and will launch the mobile version by the end of the year.
PSA is eyeing to register 4,032,967 residents in Eastern Visayas in PhilSys, but as of end of September, some 3,468,575 have so far completed the registration process, representing 86.01 percent of the total.
"One strategy to encourage the remaining unregistered is through mobile registration in villages or even house to house listing. We also have a partnership with the Department of Education for the mobile registration in schools," Ballera told the Philippine News Agency (PNA).
Signed into law by then-president Rodrigo Duterte in August 2018, Republic Act 11055, or the PhilSys Act, aims to establish a single national ID for all Filipinos and resident aliens.
The national ID will be a valid proof of identity that shall be a means of simplifying public and private transactions, enrolment in schools, and the opening of bank accounts.
It will also boost efficiency, especially in dealing with government services where people will only need to present the ID during transactions. (PNA)