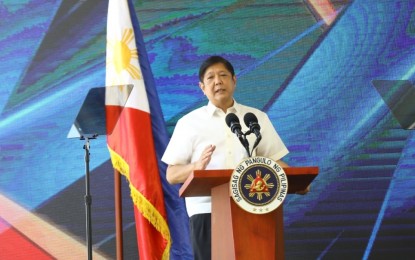 MANILA – The ceremonial signing of the contracts for the South Commuter Railway Project (SCRP) shows that the Philippines is "serious" about pursuing big-ticket projects that are vital in sustaining economic progress and recovery from the Covid-19 pandemic, President Ferdinand "Bongbong" Marcos Jr. said Thursday.
Marcos made this remark as he witnessed the contract signing that signifies the successful bid for four different stages of the project, to be supervised by joint venture agreements between corporations from Korea and Turkey.
"With the signing of these packages, we demonstrate to our people that we are serious about pursuing large projects for infrastructure to foster growth and revitalize our economy in spite of the adjustments that we have had to make to compensate for the shocks that the world situation has brought to the Philippines," he said in a speech at The Plaza in Calamba City, Laguna.
He thanked the Asian Development Bank (ADB) and the Japan International Cooperation Agency for co-financing the railway project.
"We welcome this development at a time when we are going — and we have used this phrase often — full speed ahead towards modernization and our transport system and we are reclaiming our lives from the Covid-19 pandemic. This is what all of this truly means," he said.
Marcos also vowed to ensure that all resources used for the project will be maximized "for the success of this entire endeavor."
"I thus call upon the DOTr [Department of Transportation], all the concerned agencies, local government units as well as our partners and other stakeholders to ensure the smooth and faithful implementation of this essential undertaking," he said.
Meanwhile, he expressed confidence that such projects will lead the country and people to a brighter post-pandemic future.
"Let us all work together in the spirit of unity and cooperation so that we can all build a future where we can achieve our goals and aspirations and also for all the generations to come," he said.
The SCRP is part of the 147-kilometer North-South Commuter Railway network that will link Clark, Pampanga to Calamba, Laguna by 2028.
In June, the ADB approved USD4.3 billion to help finance the construction of the railway line connecting Metro Manila with Calamba City.
The railway system will have 18 stations traversing Manila City, Makati City, Taguig City, Parañaque City, Muntinlupa City, San Pedro City, Biñan City, Santa Rosa City, Cabuyao City, and Calamba City.
The project, which consists of 56 kilometers between Manila and Laguna, will reduce the travel time between the two places from three hours to just one hour.
Once completed, the railway is projected to accommodate up to 340,000 passengers a day. (PNA)