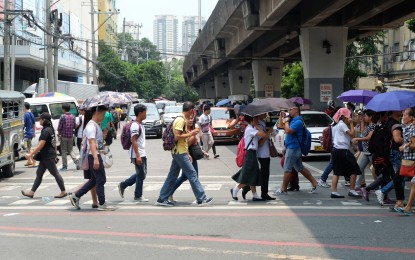 MANILA – Speaker Martin Romualdez on Thursday lauded President Ferdinand "Bongbong" Marcos Jr. for steering the country in the right direction of robust economic growth and gaining steady progress towards full recovery from the ravages of the coronavirus pandemic on his first 100 days in office.
"The Philippines is right on track, and is sprinting steadily during the first 100 days of the administration of President Ferdinand Marcos Jr. Our economy has bounced back from the ravages brought by the global pandemic and has already reached the first stage to full recovery," Romualdez said.
He said the future indeed looks brighter under the Marcos administration with business activities are now ramping up, new jobs are created and lost jobs are restored, and economic activities have turned dynamic once again.
Romualdez said these gains are made possible with Marcos' prudent choice of the best economic team and the meticulous crafting of the Medium-Term Fiscal Framework to serve as the roadmap to steer the country back to its high-growth trajectory.
With an overwhelming majority in Congress supporting Marcos and a responsible minority, Romualdez expressed confidence the administration would be able to sustain the country's momentum of growth.
He acknowledged, however, that serious challenges face the country as post-pandemic shock and global tensions continue to push the economies of the world to the brink.
"We need business to keep going. We need to provide more jobs to those able to work, and we need to keep prices of basic commodities down to pre-pandemic level," Romualdez said.
He said it is during these challenging times that the sincere and consistent call of the President for unity gains even more significance.
"We can only hope to build a stronger nation resilient enough to withstand the shocks of external crisis if we remain united and work together for the common good," Romualdez said.
Aside from chalking up success in his domestic policy, Romualdez said Marcos performed well in his first 100 days in office in pursuit of his pragmatic foreign policy of being "friend to all, enemy to none."
Among others, Romualdez cited the bilateral meeting between President Marcos and US President Joe Biden on the sidelines of the 77th session of the United Nation's General Assembly, where the two leaders cemented a stronger security alliance and discussed opportunities to expand cooperation on a wide range of issues, including energy security, climate action, and infrastructure, among others.
During his trip to Indonesia, Marcos and Indonesian President Joko Widodo witnessed the signing of agreements on defense, security, creative economy, and culture. They also renewed their commitment to stronger bilateral cooperation as fellow members of the Association of Southeast Asian Nations.
In his state visit to Singapore, Marcos and Prime Minister Lee Hsien Loong witnessed the signing and exchange of agreements on counterterrorism, personal data protection, digital cooperation, water resource management, and investment. (PNA)