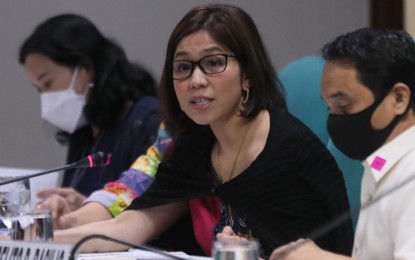 MANILA – Budget Secretary Amenah Pangandaman on Thursday expressed confidence that the Marcos administration's fiscal objectives are attainable.
In an interview with ABS-CBN News Channel's Headstart, Pangandaman said the government would implement programs that would ensure the efficient use of public funds, despite "limited fiscal space."
"Yes, we're trying to work on it," she said when quizzed if the government could reach its fiscal goals.
She issued the statement, as she acknowledged that limited fiscal space is a deterrent to fulfilling the government's commitment to providing efficient and immediate delivery of public services.
Pangandaman also said the current administration is eyeing more partnerships with the private sector to generate more economic activities.
"But I expect po that in the coming years, as we try to open up our economy, we'll have more revenues. And then the economic managers are also pushing for PPP (public-private partnership). So we will also ask the private sector to help us," she said.
Pangandaman noted that the Medium Term Fiscal Framework (MTFF) would help the current administration reach its goal of ensuring sound fiscal management and economic prosperity.
Under the MTFF, the government aims to achieve 6.5 percent to 7.5 percent gross domestic product (GDP) growth in 2022; 9 percent or single-digit poverty rate by 2028; 3 percent national government deficit to GDP ratio by 2028; and less than 60 percent national government debt-to-GDP ratio by 2025.
Earlier, Congress backed the current administration's 2022-2028 MTFF by passing a resolution adopting the comprehensive fiscal framework.
During the Senate's Thursday hearing on the proposed 2023 budget for the DBM, Pangandaman said her office's goal is to promote an "efficient and sound fiscal management."
"In the same way that I am advocating for prudent management of fiscal resources in the entire bureaucracy, I will also ensure the efficient and sound utilization of government funds and resources within DBM," she said.
She made the commitment after the proposed PHP1.816 billion 2023 budget of DBM and its attached agency, the Government Procurement Policy Board (GPPB), has been approved by the Senate Finance Committee and is now submitted for plenary debates.
The PHP1.816 billion proposed budget for the DBM and GPPB in 2023 is 14.24 percent lower than this year's PHP2.118 billion budget.
Pangandaman said the proposed budget for the DBM is guided by her priorities, which include "bureaucratic efficiency, budget reform and modernization, and green public procurement."
"With this budget proposal, the DBM commits to deliver two organizational outcomes. First, allocative efficiency and operational effectiveness enhanced, and second, budget improved through sustained fiscal discipline and fiscal openness," she said.
Pangandaman on Wednesday said sound fiscal management is also key to poverty reduction.
Also on Wednesday, President Ferdinand "Bongbong" Marcos Jr. said he was able to assemble a "functional" government composed of the "best and brightest" Cabinet members.
Marcos also thanked his Cabinet, especially his economic managers, for their efforts to transform the Philippine economy. (PNA)