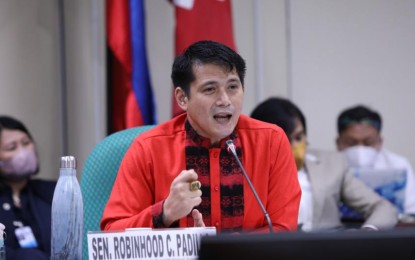 MANILA – Senator Robin Padilla on Thursday described the first 100 days of President Ferdinand Marcos Jr. as a good start for the country, saying he addressed the nation's food and agriculture concerns.
"The first 100 days is a good start that I hope will be sustained in the President's next 2,092 days in his term -- from October 8, 2022 to June 30, 2028 -- to address the other problems our nation faces," Padilla said in a statement.
"He is also personally addressing the nation's concerns on food and agriculture as concurrent Secretary of the Department of Agriculture," he added.
In the first 100 days, Padilla said, the President took the role of a "traveling salesman" in attracting investments from other countries, the latest was his weekend trip to Singapore, Southeast Asia's business center.
The President himself enumerated some of his concerns during the Manila Overseas Press Club (MOPC) President's Night, his commitment to press freedom and defense of media rights, more role of media in nation building, and calls for partnership with media in informing the public.
President Marcos said his election promises are now put into order during his first 100 days which assembled a powerhouse team of economic advisers, mentioning Finance Secretary Benjamin Diokno.
He also urged government workers to understand that everyone has to work to rise from the "terrible crisis" in the past two years.
As such, Padilla urged the Filipinos to unite and support "what is right and correct what is wrong, because the President's victory is a win for our Motherland -- and most importantly, a win for all Filipinos." (Leonel Abasola/PNA)