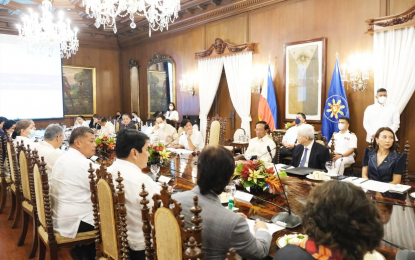 MANILA – The administration of President Ferdinand "Bongbong" Marcos Jr. got high approval ratings on its handling of urgent national concerns in the country based on the recent Pulse Asia survey released Thursday.
The Pulse Asia's poll released on President Marcos' 98th day in office, found that his administration received "majority approval ratings" on 11 of the 13 issues assessed in the nationwide survey.
The Marcos administration received a 78 percent rating for responding to the needs of calamity-hit areas and controlling the spread of Covid-19.
Sixty-nine percent of respondents believed in the Marcos administration's efforts in promoting peace in the country while 68 percent appreciated what is done to protect the welfare of overseas Filipino workers
In terms of fighting criminality and enforcing the rule of law, the Marcos administration got a 67 percent and 62 percent rating, respectively.
The Marcos administration acquired a 59 percent rating for both creating more jobs and increasing workers' pay and a 58 percent rating for fighting graft and corruption in government.
Fifty-seven percent of respondents appreciated the Marcos administration's initiatives in protecting the environment while 52 percent were happy with efforts to defend the country's territorial integrity.
The survey, however, found that the Marcos administration only registered a 42 percent rating on the issue of controlling inflation and a 39 percent rating on poverty reduction as the country is still reeling from the impact of the Covid-19 pandemic.
Pulse Asia's face-to-face survey was done from Sept. 17 to 21 and was based on a sample of 1,200 adults 18 years old and above.
It has a ± 2.8% margin of error.
In a press conference on Wednesday, Marcos believes that he has successfully assembled a "functional" government composed of the best and the brightest Cabinet members in his first 100 days in office.
He said his first 50 to 100 days in government focused on "putting out fires", particularly issues hounding the agriculture sector.
Marcos cited his administration's efforts to renew and forge agreements with countries during his state visits to Indonesia and Singapore and his working visit to the United States.
He said the government has shown the world that the Philippines is "standing on its own two feet" during his debut on the international stage -- his attendance at the 77th session of the United Nations General Assembly (UNGA) in New York. (PNA)