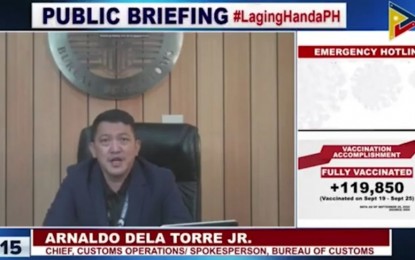 MANILA – After surpassing its target collections in the past months, the Bureau of Customs (BOC) is confident that it will meet this year's target revenue collection amounting to over PHP700 billion.
Arnaldo dela Torre Jr., BOC spokesperson and Customs Operations chief said the bureau has collected PHP638 billion in the first nine months of 2022.
"The Bureau of Customs believes that the set target given to us by the national government for 2022 - this is PHP721 billion, as of September, we have already collected PHP638 billion, we believe, under the leadership of our good Commissioner (Yogi Filemon Ruiz), we will achieve the 2022 collection target," he said in a Laging Handa briefing Friday.
Last month, the bureau recorded a surplus of PHP17.6 billion after collecting a total revenue amounting to PHP79.5 billion in September.
The Bureau has exceeded its PHP61.9 billion target collection last month by 28.4 percent.
Dela Torre attributed the positive collection to the different factors such implementation of new programs among others.
"First of all, the strong and high cooperation of our staff because they are more motivated now due to the leadership of our new President (Ferdinand Marcos Jr.). One of them is the strict focus of our Bureau's ports on the valuation of importations. Border protection measures have also been tightened to ensure that the taxes we collect are correct," he said.
"Second, due to our recovering economy, we notice that the volume of imported goods continues to increase. So now there are more ships arriving and we are processing more imports. Third, we continue with our modernization programs. That was done during the previous administration, we continue to improve and improve the services that we should provide to our countrymen and those who transact with the BOC," the Customs official added.
At the same time, he reported several accomplishments of the bureau during the first 100 days of Marcos administration, among them is the implementation of 128 letters of authority.
"We had issues with regard to the inspection of the warehouses where the agricultural products were, we checked if they had documents to prove that they were imported, because of this, there are approximately 5.3 billion worth of seized smuggled goods from July to September," Dela Torre said.
"Under the same timeline, we have filed criminal complaints against erring importers, 26 complaints against Customs brokers before the DOJ (Department of Justice), and their total dutiable value is amounting to PHP175 million; and we have five administrative complaints with the Philippine Regulation Commission," he added.
In fighting corruption, the BOC spokesperson had filed eight show-cause orders and an administrative case against erring employees.
"Also conducted 132 investigations. Because of this, we have one suspended, three reprimanded, seventy-four reshuffled and seven relieved employees," he said. (PNA)