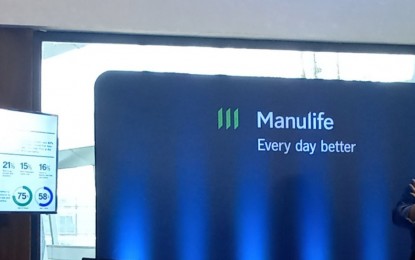 MANILA — The pandemic has increased interest to have insurance coverage, according to an official of Manulife Philippines who said the "new normal" encouraged more Filipinos to buy insurance products online.
In a briefing on Tuesday, Manulife Philippines chief marketing officer Melissa Henson said engagement through their digital channel grew by almost 200 percent since the pandemic started, bulk of which are for life insurance and medical or health-related insurance.
Citing the results of the nationwide online survey that the company conducted in partnership with InSites Consulting in May 2022, Henson said the respondents' positive experiences with online transactions have encouraged them to purchase insurance and investment products through digital means.
The survey was participated by 500 Filipinos who were not necessarily Manulife policy holders.
Primary consideration is convenience at 45 percent, and was followed by security, 22 percent, and protection, 17 percent, she said.
Results of the survey titled "The Modern Filipino Family: Exploring family dynamics and digitalization in the new normal", showed that in the past 12 months, around 25 percent of the respondents who belong to Generation X and around 33 percent of the Millennials purchased insurance products online.
Also, 41 percent of those who belong to Generation Z intend to buy insurance products in the next 12 months, Henson said.
She said results of their latest online study are in line with results of their past surveys wherein respondents indicated the need to have insurance coverage to protect them from the impact of untoward situations, such as the pandemic.
Henson said people now have "greater desire to be financially ready" and "to be physically and financially fit."
"And I think that's what we saw among the parents that we surveyed this year, that they really have leveraged a lot on the new digital tools to improve their planning so that they can prepare for the unexpected," she told the Philippine News Agency.
And taking note of the impact of the pandemic on people's financial capacity, with some workers losing their jobs, Henson said they will continue to provide protection products and investment opportunities "to help them achieve financial security and make their every day better."
She said while companies also experienced hardships as a result of drop in sales during the pandemic, the economy is recovering in line with the continued rise in economic activities.
"So we are anticipating that resurgence (in sales) again across-the-board," she added, without giving specifics. (PNA)