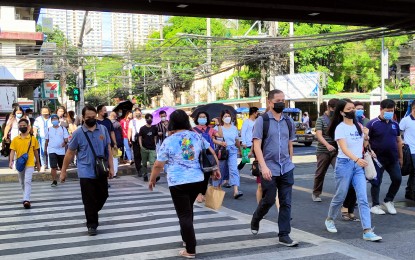 MANILA – The seven day Covid-19 positivity rate in the National Capital Region (NCR) further dropped to 17.3 percent as of Oct. 10 from 19 percent on Oct. 3, the OCTA Research Group said Wednesday.
Positivity rate refers to the number of individuals testing for Covid-19 in a certain period.
OCTA Research Group fellow Dr. Guido David, over Twitter, said the reproduction number in the region -- number of people a case could infect -- is down to 0.93.
NCR's one week growth rate is at -16 percent while its healthcare utilization rate is at 37 percent.
"Let us hope the downward trend continues the rest of the year," David said.
On Tuesday, the Department of Health said Covid-19 cases in the NCR show signs of plateauing while infections in the NCR Plus Areas remain on an upward trend.
Severe and critical cases in the NCR continue to show a downward trend together with the intensive care unit admissions. (PNA)