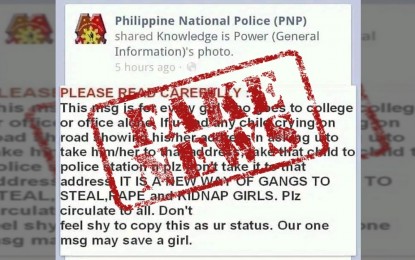 MANILA - Senators Nancy Binay and Jinggoy Estrada emphasized on Wednesday the need to take the fight against the proliferation of fake news to another level.
This was after a recent Pulse Asia survey showed that nine out of 10 or 90 percent of Filipinos recognize fake news as a problem in the country.
Estrada called the survey result "disturbing," saying that misinformation and disinformation should be taken seriously.
"Those behind it should be held accountable for their actions. Hindi tama na hayaan nating lumaganap ang mga iresponsableng balita at impormasyon dahil ito ay magdudulot ng maling desisyon at opinion sa ating mga kababayan (It is not right that we just let irresponsible news and information spread because these will result to wrong decision and opinion among our people)," Estrada said.
"Bad decisions affect public interests, safety, order, and people's lives. And bad choices stemming from false information cost money and unnecessary wastage of precious human, natural, financial, and time resources," he added.
The lawmaker cited the platforms in which fake news is peddled to the public, as well as the role of social media influencers, bloggers, and vloggers in the spread of disinformation in the country as shown in the survey.
"This is the reason why we intend to establish a policy to provide our citizens with a means for their protection from online falsehood and manipulation. We hope to stop the proliferation of disinformation and misinformation on the internet by criminalizing fake news as a cybercrime," Estrada said.
One of the bills that Estrada has filed is Senate Bill No. 1296 which seeks to hold fake news enablers accountable to the law.
Estrada said the Senate should conduct immediate deliberations on his proposed measure to address the widespread proliferation of false information.
On the other hand, Binay believed that legislation is not necessary to fix the problem of fake news proliferation as the Constitution guarantees free speech.
"It would be ironic if we regulate or restrict speech or other expression dahil magkaiba tayo ng opinyon o pananaw (because we differ in opinion or belief)," Binay said in a statement.
However, Binay said credible sources of information need to refute the wrong ones so people would know who to trust.
She said it will also put a sense of credibility to the information or news that people receive.
"Media, academe, historians, and even those in the private and public sectors are often victims of fake news. Kaya (That's why) we need people or even non-government watchdogs who can refute fake news publicly," Binay said.
If no one speaks up against wrong information, the lawmaker said, lies will surely dominate society. (PNA)