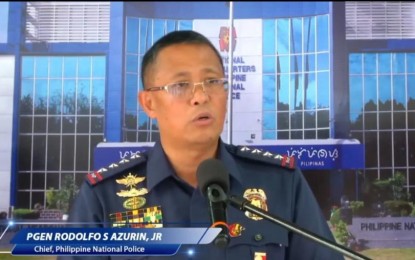 MANILA – Philippine National Police (PNP) chief, Gen. Rodolfo Azurin Jr., on Wednesday said the police force's anti-crime drive will remain relentless amid a decrease in the number of non-index crimes in the country.
This came as data from the PNP's Crime Research Analysis Center showed that non-index crime volume dropped by 3.88 percent during a three-month period from July to Oct. 8 this year.
A total of 48,769 non-index crimes were recorded during the period, lower by 1,971 incidents from the 50,740 recorded in the same period last year.
Mindanao logged the highest drop at 10.79 percent while Luzon posted a 3.53 percent decline in non-index crime incidents.
Non-index crimes are defined as violations of special laws which involve reckless imprudence resulting in damage to property or physical injury, violations against women and children, illegal possession of firearms and drugs, illegal logging, lasciviousness, direct assault, and other crimes not listed under index crimes.
The same set of data revealed that total crime incidents notably went up in Luzon and Visayas by 10.27 percent at 5,988 and by 15.73 percent with 2,817 incidents, respectively. Mindanao also recorded a decrease of 4.09 percent.
The PNP said cases of theft, robbery, and auto theft contributed largely to the number of crime incidents.
Overall, the peace and order Indicator went down by 4.41 percent from 61,441 to 58,730.
It was attributed to the decrease noted in Luzon and Mindanao. On the other hand, the Visayas region posted an increase of 5.02 percent.
"These numbers will continue to guide our daily operation. The PNP is committed to achieving lasting peace despite the many challenges that come our way. Life is beautiful and we will make it happen. The public deserves to live in an environment of peace and security," Azurin said in a statement.
Azurin also urged police units and personnel to work harder and capacitate every unit and station to respond quickly to crime reports.
Anti-drug drive intensified
Meanwhile, around PHP9 billion worth of shabu have been seized by law enforcement agencies since the start of the President Ferdinand Marcos Jr.'s administration, according to Interior Secretary Benjamin Abalos Jr.
"The intensity is there," Abalos said, referring to the status of the war on illegal drugs during the present administration.
Marcos assumed the presidency on June 30, replacing Rodrigo Duterte.
Under the Duterte administration, more than 6,000 drug personalities were killed and about PHP90 billion worth of illegal drugs were seized.
"As of now, we're hitting approximately PHP9 billion since July 1 under the Marcos administration, seizure of illegal drugs of methamphetamine," said Abalos.
The largest drug haul so far during the Marcos administration was 990.1 kilos of shabu worth PHP6.7 billion which was seized during an anti-drug operation in Manila on Oct. 8.
"What we will do is the same intensity (with the previous administration) in accordance with the oath that we have taken on the basis of the Constitution. It will be on the same intensity," said Abalos.
While maintaining the intensity of the war on drugs, Abalos said the government will make sure that those who are charged with drug offenses will be convicted.
Also, he said the government is also intensifying efforts to reduce drug demand, through the rehabilitation of drug dependents.
Abalos also asked Justice Secretary Jesus Crispin Remulla to review the judicial system to rid possible erring prosecutors who may be in cahoots with drug players.
"If there are some bad cops, I'm sure there are some bad fiscals…What is important is to make people closer to the government by believing more in government, in the systems of government. That is very important," he said.
He said the DILG and the PNP will be closely working with the Philippine Coast Guard to prevent the smuggling of drugs into the country.
"We have to cleanse the ranks (of the PNP). Let's face it, there are really some bad cops. We are going to cleanse the ranks (of the PNP)," said Abalos. (PNA)